Why choose this apprenticeship?
BOOST YOUR SKILLS – Learn core skills for working in a variety of establishments, from restaurants, bars and coffee shops to hotels and conference centres
SPECIALISE YOUR STUDIES – Select from a number of specialisms including food preparation, food and beverage service, barista or serving alcoholic beverages
LEARN WHILE YOU WORK – Gain a Level 2 qualification while putting your learning into practice in the workplace
TEAM SCOTLAND PARTNERSHIP – Our University will be the home for Team Scotland at the 2022 Commonwealth Games in Birmingham, offering exciting opportunities for our students to work with the team and its athletes
Our facilities
University College Birmingham is renowned for its outstanding food and hospitality training facilities. Our award-winning restaurant on campus provides the perfect environment for students on our hospitality courses to boost their skills across different service styles.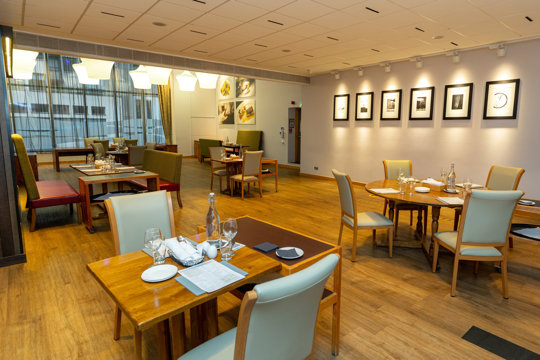 Open to the public, our AA Rosette Highly Commended restaurant on campus – Restaurant at Birmingham College of Food – will arm you with hands-on skills, from serving fast food to silver service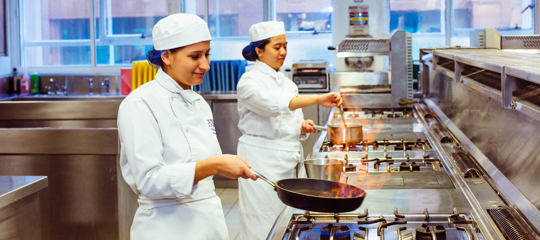 Our training restaurant and industry-standard kitchens provide you with a unique behind-the-scenes view of the hospitality and catering industry during your studies
You will need to be aged 16 or over and in full-time employment. You will already be working in a suitable role, or alternatively, you could approach local employers or view our employer vacancies. If you are new to the industry or have limited experience, this apprenticeship is an ideal starting point.
For Level 2 you will normally require a minimum of 4 GCSEs at grade 3 (grade D) or above. However, all applicants will be considered on an individual basis.
If you do not have a grade 3 (grade D) or above in English and maths, you will need to undertake an assessment so we can ensure you receive the best support for that subject.
You will also be required to attend a college interview.
If you have experience of working in the industry, we would be delighted to hear from you.
This apprenticeship is for a maximum of 15 months with a mix of theory and practical delivery at University College Birmingham and in the workplace.
Throughout your training your tutor will guide you through formative assessments both in the workplace and at college. You will have practical assessments, online tests and assignments throughout your apprenticeship.
Your personal assessor will visit you regularly in the workplace, or are happy to see you more often if you need extra help. They will assist you throughout your training to help you achieve your apprenticeship standard.
Apprentices may need to attend college to gain additional skills but this will be discussed with you and your employer.
Our teaching and assessment is underpinned by our Teaching, Learning and Assessment Strategy 2015-2020.
All apprenticeship standards require successful completion of end-point assessments graded by an approved external apprenticeship organisation.
In order to pass the Hospitality Team Member apprenticeship end-point assessment, you must successfully complete the following:
Multi-choice questionnaire
Practical observation
Professional discussion
Business project
Join the conversation and check out the latest updates from our Department of Hospitality and Tourism.