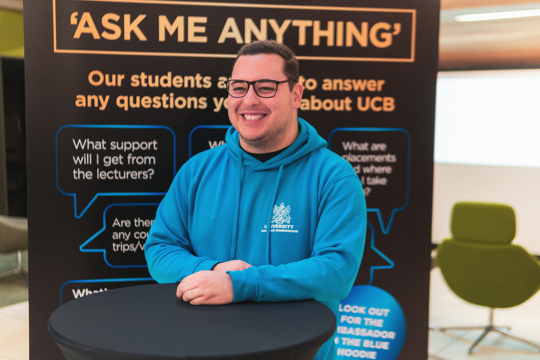 Why did you become a Student Ambassador?
I became a Student Ambassador for two reasons: the first one was to improve myself and develop every single skill since I had never worked before. The second one was to earn money while experiencing the student life and creating a network of connections and friends.
What are the best things about being a Student Ambassador?
What I really like about being a student ambassador is to be connected to different departments and people throughout UCB and to represent UCB as best as I can on so many activities and various jobs that come up.
Can you tell us about the different types of events that you have worked and the types of jobs you've done at them?
Well, am I allowed to say loads? Open days, where we help students find their way to the activities/workshops, freshers' week, smiling and supporting the free activities prepared for welcoming new students, data entry (one of my favourites) where we are in direct contact with formal university departments and we help them with data entry, ad hoc work or organising paperwork/mailing out letters, fayres, being of placement or sports or wellbeing to give students the opportunity to see for themselves what they can use whilst at UCB.
What would you tell someone else thinking about becoming a Student Ambassador?
APPLY NOW! Or wait until the applications are open…