Come and see for yourself
Our open days are designed to give you as much information as possible about University College Birmingham, the course you are interested in studying and our superb facilities. They are a great opportunity to get an insight into our unique atmosphere.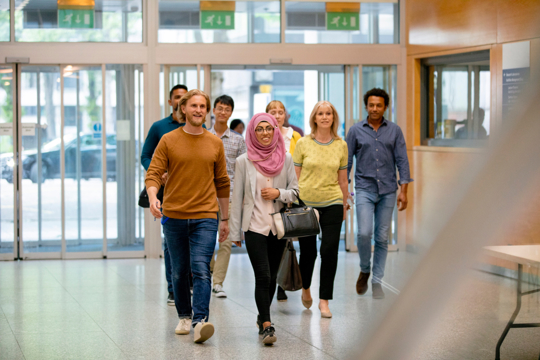 Explore our industry-led apprenticeships
If you like the thought of hands-on study and earning while you learn, an apprenticeship could be for you. There are so many reasons why you should choose to study with us, but don't just take our word for it.

Meet the apprenticeships team
Our Open Days are the perfect opportunity to meet our Centre for Apprenticeships team, and find out about the options that are available to you. Our team will advise on how you can enhance your future career, by working alongside various companies, organisations and experts in your preferred field.

Explore our facilities
Our college students particularly enjoy the fact they have the opportunity to learn in world-class facilities that are just like in the working world.
More than £140 million has gone into our campuses, equipment and resources in recent years, from our industry-standard training kitchens to our tourism and aviation suite, bakery department, dedicated IT facilities and business hub.
All of our campuses are within a short walking distance of each other and while we can't take you around just now, we hope our facilities page will inspire you.

Information for parents
While our apprenticeships do go up to degree level, many of our apprentices are school leavers. From the moment your son or daughter arrives, they will benefit from outstanding support from the apprenticeships team, tutors and our student services team. Every apprentice should feel valued.
We want you to feel reassured and you will be able to ask any questions you might have at the open day. In the meantime, find out a bit more.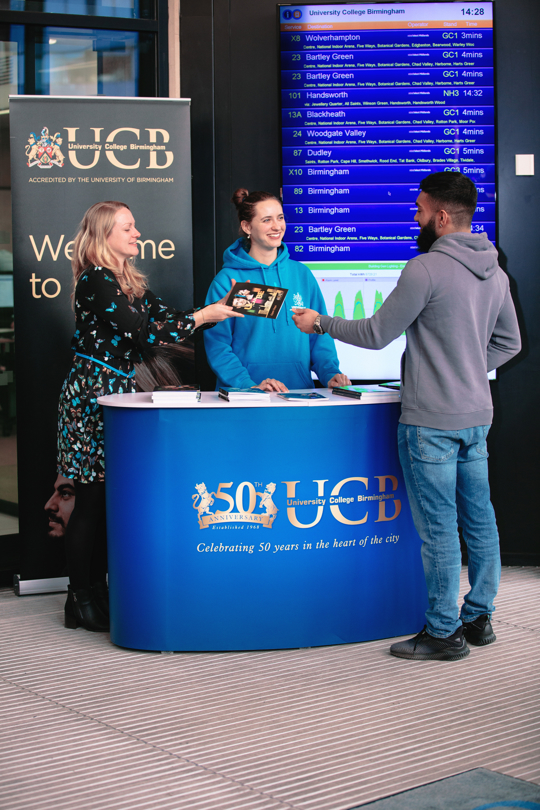 Any questions?
Our support services will be on hand to answer questions regarding finance or admissions during our online open days. In the meantime, if you have any questions you can also email specific questions:
FAQs for on-campus events
I would like to attend your open day – how do I book a place?
Do I need to bring a copy of my open day confirmation?
Yes. You can either print your open day confirmation and bring it with you, or have it open on your phone once you arrive so that we can register you on the day.
What time does the event start?
The time depends on which open day you have booked onto. Details of which can be found on our website and on your booking confirmation. We encourage you to attend your subject-specific presentation and to leave enough time to tour the University and speak with Support Services. 
Do I have to book to attend any of the subject presentations?
We do recommend that you book in advance to avoid any disappointment, however, we also accept walk-ins on the day.
How long do the presentations last?
Presentations last roughly 45 minutes with a chance to ask questions at the end. 
Which campus do I need to go to?
I am interested in more than one course – do I have to register for each course?
As long as you register on arrival, you do not need to register for more than one course.
Yes free parking is available onsite on a first-come-first-served basis, during Saturday events only. During weekday events, there are several Pay and Display car parks in close proximity to the College – including NCP Car Park, Newhall Street
I have not received email confirmation of my booking – what should I do?
If you do not receive a confirmation email of your booking, please contact us. You can email marketing@ucb.ac.uk or call 0121 232 4300. Remember to check your junk mail.
What happens if I arrive late for my subject presentation?
If you arrive late, we will ensure that you attend the next available presentation.
I wish to cancel my open day booking – how can I do this?
Do I need to let you know if I or one of my guests has a disability?
Please let us know in advance and we will be happy to make further arrangements.
How can I contact the College?
If you have any questions you can contact us on 0121 232 4300.
Alternatively, you can submit any queries online via our enquiry form.
What happens if the government guidelines change?
If government guidelines change and we can no longer offer an on-campus open day, it will revert to being online and no reimbursement will be made regarding transportation costs outlaid.