Whether you are a UK, EU or International Student, it is a good idea for you to make a realistic estimate of your expenditure and income for the coming year before you start your course of study at University College Birmingham.
Work out how much income you feel sure that you will receive, and then calculate what you think your expenditure will be. If you are very lucky, the first total will be larger than the second.
It is quite likely, however, that you will find as the year progresses that you will have to spend more money than you can afford, and that you need to rein in your spending. This section looks at what you should do if you run into the kind of financial difficulties that any student can experience. If you have any queries about your personal finance, please contact the Student Budget Counsellor in the Student Services Department, based on the Seventh Floor of the Summer Row Campus.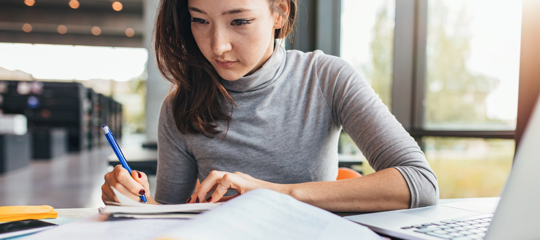 Access to Learning Fund
The Access to Learning Fund provides extra support for students who have higher than expected costs (such as single parents) or who meet unexpected financial difficulties. You can use Access to Learning Fund payments to help with course-related costs, such as books and equipment or travel, or for general living costs, such as rent. Undergraduate and postgraduate students, full-time and part-time, may apply for help from the fund. Sums between £100 and £3,500 are currently available, although, very rarely, due to budgetary constraints, does the fund stretch to such large sums.
If you think that you might need help from the Access to Learning Fund, please contact the Student Services Unit.
Financial problems have a habit of getting worse unless they are tackled quickly. If you find that your budget plan is not realistic, you will need to take steps to minimise your expenditure.
Minimising expenditure may need to include cutting payments on luxuries. This may be the time to cut spending on entertainment or alcohol. For example, 20 cigarettes a day cost approximately £3,500 a year! You might also consider changing your accommodation in order to reduce costs. Moving closer to University College Birmingham can reduce both rent and travel costs, although you should first check whether you can end your tenancy early without penalty.
Even if you have a sensible budget, it is easy to spend more than you intend. Try keeping a detailed and accurate list of everything that you spend for a period of at least two weeks. Then compare this to your budget. Doing this exercise may be all it takes to see where the problem lies. The independent Money Advice Service can also help with their budget calculator. 
The next step is to ensure that you are maximising your income. Check that you have taken out the full student loan or enquire at the Student Services Department if you are unsure. Also see the Financial Support section of this handbook to check whether there are any government grants or discretionary funds that may be available to you.
If your parents, spouse or partner are expected to support you, but are unable to do so because their circumstances have changed substantially (e.g. redundancy or divorce), it may be possible to be reassessed so that you get a higher maintenance loan and/or grant. The rules are strict, and reassessment is not always possible, but it is always worth applying to Student Finance England.
One option may be to find part-time work. It is vital not to do so much paid work that your academic work suffers, but one or two evenings or a Saturday may not be too much of a strain in the first year or two of your course. Indeed, part-time work of the right sort can also help your CV. You only need to earn £30 a week in term-time to raise £1,000, which may be enough to sort out your difficulties.
It may be that the easiest additional source of short-term income available to you is a bank overdraft. Most student accounts offer interest-free overdrafts, although some students may be unable to obtain an overdraft due to past financial problems or other circumstances.
You may also have access to credit or charge cards. This is a very expensive form of borrowing (usually around 20% APR for credit cards and 25% APR for charge cards). You are advised only to use these for short-term difficulties and only if you are confident of your ability to repay quickly. Taking on large amounts of expensive credit is the quickest way of finding yourself in real difficulties; you will need to make monthly repayments which will grow quickly and take up a large segment of your income. For example, with a debt of £1,000 on a typical credit card, you would repay around £350 in the year but still owe over £850.
Finally, it may be the case that you are facing hardship because of unusual or unforeseen circumstances such as losing a job, having to move suddenly or other unexpected costs.
You may also have exceptionally high accommodation or travel costs for reasons beyond your control.
If you are in a situation like this, you may be eligible for financial support from University College Birmingham.
Few students receive enough income to survive without occasionally getting into debt.  If this happens to you, there are three golden rules for coping:
Don't panic - things are rarely as bad as they seem on paper and there are many support services who can help you;
Don't hide from the truth - debt is best dealt with immediately as the situation can deteriorate quickly if not addressed;
Talk to the people to whom you owe money – your creditors will often accept far more modest repayments if they know your true financial circumstances.
Being in debt can affect you in a number of ways. It may cause you to be continually worried and suffer stress which has a negative impact on your work. If this happens, make sure that your Year Manager or your Assistant Dean of Studies know about it, and consider getting in touch with University College Birmingham's Student Budget Counsellor. You may need to make radical lifestyle changes (e.g. moving to cheaper accommodation or cutting down on social expenditure) which can also be stressful. You may find yourself ignoring official correspondence and denying the need to act.
If you do not act, you may be threatened with eviction/repossession, withdrawal of services or action by a debt collection agency. You will almost certainly need to negotiate with your creditors to rearrange your debts (see below). You may even eventually be taken to court, but this is not likely to happen if you act quickly when problems start to arise. If you find yourself with bills you cannot pay, you need to be clear about the relative importance of what is due. Debts are usually categorised in one of two ways:
Priority debts: these are debts which threaten your liberty or well-being and must be addressed immediately. Non-payment of taxes (including council tax), fines or a TV licence can, in extreme circumstances, result in prison sentences. Similarly, if you cannot keep up with your rent or mortgage payments you may find yourself threatened with eviction or repossession. Both these processes are slow ones which take some months to complete, but you should take advice immediately if this occurs. The Student Services Unit may be able to help or they will refer you to a specialist agency that can.
Secondary debts: these are debts which are still important, but which are not an immediate threat to your well-being (e.g. utility bills, mail-order debt, credit cards, unauthorised overdrafts). You may be threatened with withdrawal of services or court action, but this is unlikely to occur if you begin negotiations with the creditor in question. In particular, there are strict rules about cutting off essential services such as electricity, gas and water, and this will not occur unless you fail repeatedly to respond to correspondence. Remember that unpaid debts to University College Birmingham can cause problems, such as being unable to register for the next stage of your course; if you fail to pay your tuition fees you may be excluded from University College Birmingham.
Negotiating with Creditors
Once you have sorted your debts (or potential debts) into categories, follow these steps:
1. Write out a clear statement of your financial circumstances. Include your income, expenditure, and all unpaid debts and payments due. Be realistic – it is important that you and everyone else concerned knows the true position.
2. Contact your creditors in writing, using the financial statement you have prepared. Make a repayment proposal based on your circumstances and a realistic estimate of what you can afford to repay. This can be a series of sums (e.g. when your student loan instalments arrive) or a regular monthly amount (e.g. if you have a part-time job).
3. Remember to keep copies of any correspondence you send and never leave letters from creditors unopened - an offer of help or a payment suggestion may not be repeated if you do not respond quickly.
The steps given so far should allow you to deal effectively with the problem, but just in case…
4. If your initial offer is refused, you should now negotiate with the creditor. Ask what payment they would accept, and if you cannot afford it, offer a lower payment that is within your budget. This process can take some time and does not always succeed. If it does not, your debt may be passed to a debt collection agency. At this stage you can begin negotiations again; a debt collection agency may even take lower repayments than the original creditor.
5. If no arrangement can be made, court action may be taken against you. However, it is in creditors' interest to negotiate a repayment plan, however small, as seeking a county court judgment is a lengthy and expensive process which is unlikely to require you to make large payments. If you are threatened with court action, eviction or a vital service is being cut off you should TAKE ADVICE IMMEDIATELY.
6. If you are taken to court, you will be given the chance to show your income and expenditure figures, and if you ask to pay by instalments the court will set a reasonable payment schedule. This could be in your best interests, and may even be lower than your original offer. Do not be afraid to attend a court hearing – if you do not go, you cannot explain the situation.
Finally, a reminder that few students receive enough funding to survive without debts. Even those students with low costs are likely to leave University College Birmingham owing several thousand pounds to the Student Loans Company, and many other students also have large overdrafts and debts to family.
This is now a fact of student life. The essential thing is to control your finances so you do not run up unnecessary debt, and use what money you have sensibly and effectively. If you do this, you have succeeded in dealing with debt.
Always remember that higher education will improve your future employment prospects.
Debts to University College Birmingham
All sums due to University College Birmingham must be paid by the due date. Failure to pay tuition fees and other charges by the due dates may result in the withdrawal of facilities and may lead ultimately to exclusion from University College Birmingham. Possession proceedings may be instigated against you if you fall into arrears with your accommodation instalments, and you will be liable for a late-payment surcharge.
If you are a returning student with an outstanding debt to University College Birmingham, you must clear the debt before registering on any modules for the next session. If you have a debt, you will not be able to collect your certificate at the Awards Congregation nor will you be provided with an official certificate until your debt is cleared. University College Birmingham reserves the right to offset a refund due to a student (for example, for accommodation deposit refunds) against other debts owed to University College Birmingham by the student.
Debt inquiries should be made to University College Birmingham's Finance and Information Services Unit, Tel: 0121 232 4018.