Hands-on training and experience is vital to students and our Health Skills and Simulation Suite at Moss House is a cutting-edge environment for students to practise more than 100 different clinical skills.
Using the latest equipment and manikins, students are immersed in scenarios and simulations they would encounter in real life, which become more complex as they develop. 
Find out more about training opportunities with University College Birmingham.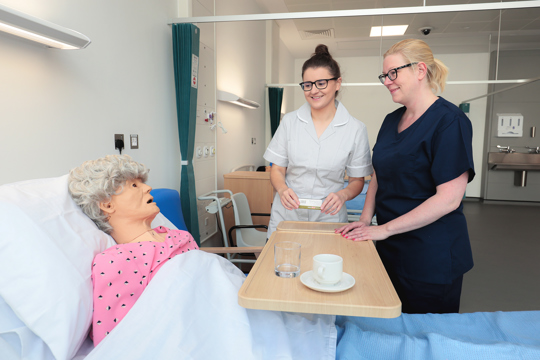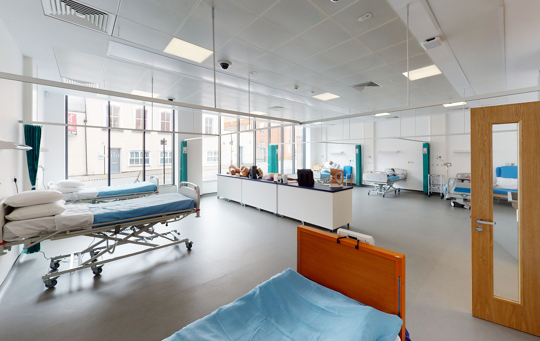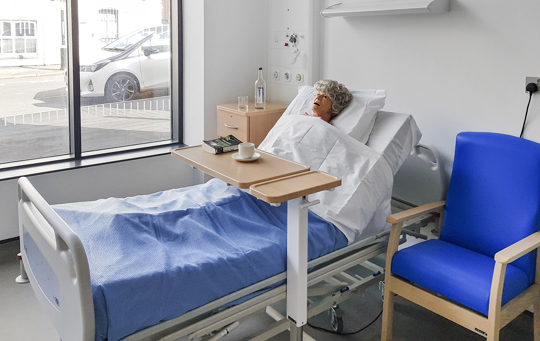 The ward simulates a hospital bay, with six beds complete with equipment you would expect to see on a real ward, including a drug administration trolley and fridge, resuscitation trolley, patient records storage, equipment to move patients such as hoists and slide sheets, equipment to make beds, washing and dressing, linen disposal skips, sharps and waste disposal bins.
There is also a range of full-size manikins to simulate practice, from taking physiological measurements such as blood pressure, pulse and respiratory rates to basic life support and other elements of healthcare and education. 
The manikins are designed to support the teaching and the practise of essential clinical skills. This might be the insertion and removal of catheter tubes into the bladder, phlebotomy arms (taking blood samples for testing), inserting feeding tubes for artificial nutrition, wound care, basic life support or injection techniques.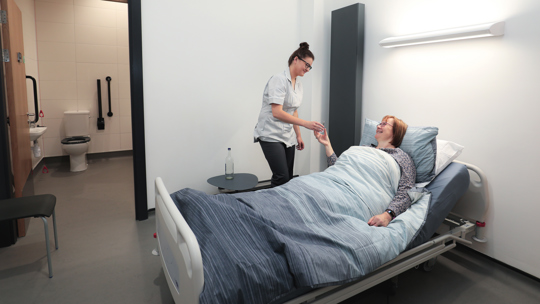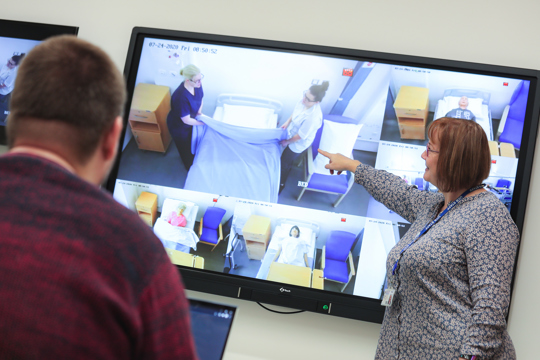 The home room with en suite bathroom is for demonstrating and practising care for patients in their own home or in a care home setting. Crucially, it can be used to replicate a doctor or nurse specialist's consultation room as you would find in a GP surgery or clinic. 
The monitoring suite is used to control the cameras and audio/visual recording equipment to capture skills teaching, simulated learning and assessments being carried out in the ward area. There is a live feed to the teaching room where you can observe other students participating in simulated activities to encourage discussion and further learning opportunities through peer feedback.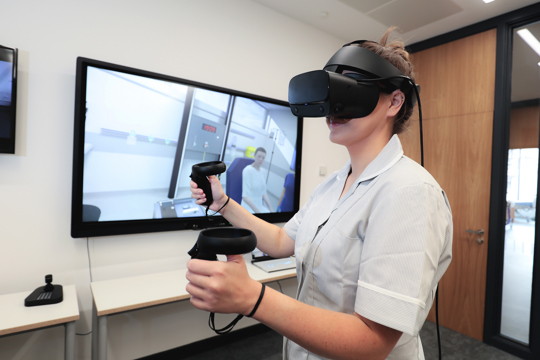 The teaching room is designed for briefing before simulation and skills sessions and for debriefs. This room can also be used for PowerPoint presentations and videos and is the perfect space for small group discussions.
Virtual reality as a form of immersive learning is the exciting opportunity for students to 'virtually' take part in life-like clinical scenarios, guiding their avatar to assess a patient or service user, plan their care, provide care and then evaluate care. It really feels as if you are right there in the scenario and the patient or service-user's health depends on the choices you make.