By Luke Hayward
Share post: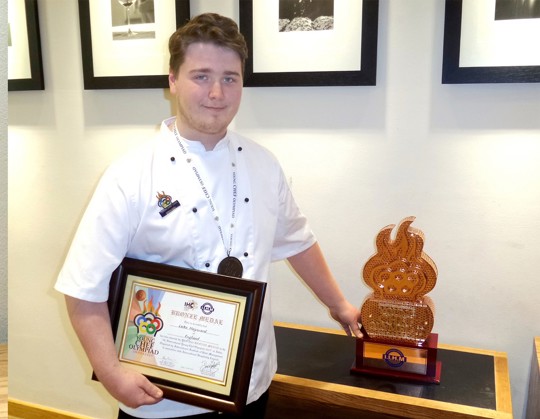 Luke Hayward
Professional Chef FdA
Nestlé Professional Toque d'Or winner
Luke was amongst the team of University College Birmingham students that won the 2019 Nestlé Professional Toque d'Or - one of the toughest, national tests of cooking and service skills.
As part of the challenge, the team were tasked with delivering a fine dining banquet at the Kimpton Fitzroy hotel in London's Russell Square, producing a sustainable menu developed by award-winning chef Simon Hulstone.
On winning the Toque d'Or, Luke, who also scooped a bronze award at the Young Chef Olympiad in India earlier that year, said: "Now it's on my CV, I'm hoping it will take me far – even on finding out the results, I was being offered jobs.
"We couldn't have had a better team. We had the University's support through all of it, from meeting up as team-mates right through to getting the awards. We had other lecturers who helped us too."
Reflecting on his degree course, he said: "The practical nature of this course suited me. We were taught classical food, and when you learn the basics, you can pretty much do anything.
"I could go to any of the lecturers and they'd help me, and the facilities at the University are top of the range."