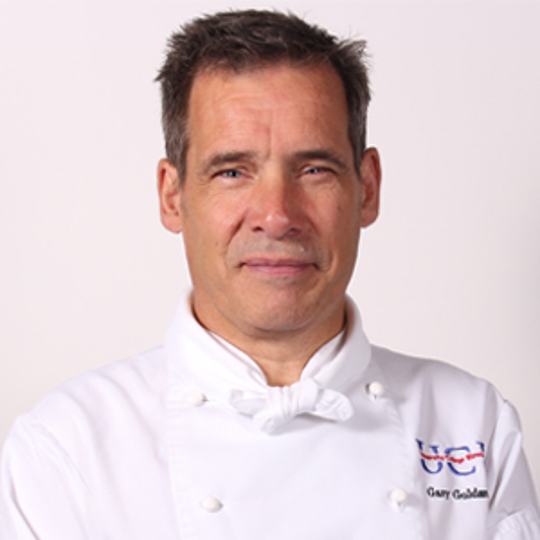 Gary's Profile
Academic qualifications
PGCE, V1 Verifiers award, A1 Assessors award, R.I.P.H.H, City & Guilds 706/1 City & Guilds 706/2, City & Guilds 707/1. City & Guilds 707/2, City & Guilds 707/3, City & Guilds 706/1, City & Guilds 706/2, City & Guilds 707/1, City & Guilds 707/2
Professional recognition / membership
Member Association of Pastry Chefs, Craft Guild of Chefs Master Craftsman and Member of The British Culinary Federation.
Originally studied Professional Chefs and Food Service at Worthing College Sussex now Northbrook College gaining the Cookery & Food Association National Student of the Year. I then went to London working in various prestigious hotels and restaurants, such Savoy Hotel, Royal Garden Hotel, Dorchester, Le Gavroche, Boulestin and other high profile establishment. I then went into the City of London as a chef to manage companies such as SG Warburgs, Sun Alliance, Mercury Asset Management and Barclays International catering for the chairman's of these companies with strategic and financial responsibility for new establishment openings. During this time I headed a team to cook for Her Majesty the Queen, being presented to her Majesty personally. Then went into business as proprietor of my own company specialising in patisserie work, centrepieces creating commissioned work for companies. During this time I started to teach at Canterbury College becoming Chef Lecturer of Hospitality Qualification Co-ordinator for the college. During my time at Canterbury, I managed the overseas placements for France allowing me to use my extensive knowledge of classical French cuisine and Le Terroir. I then moved to Aylesbury College spending 8 years as a Chef Lecturer being part of the new build team for the colleges' £45 million new college. I then moved to University College Birmingham, College of Food as Chef Lecturer, as part of the Patisserie team, responsible for recipe development, pastry menus. I have been at UCB since January 2011.
I teach patisserie on various courses and I am responsible for recipe and development side of the VRQ3 provision with the team along with any completion work that gives the students the opportunity to gain further experiences. Also recently teaching at The Barbados Community College.
Research interests and scholarly activity
Culinary innovation and strategy, Qualification frameworks, culinary competitions mentoring and participation. Innovation with advanced chocolate centrepieces and developing new techniques.
External examiner for City & Guilds A1 & V1, Barbados Community College, Barbados, Chambre de Commerce and Club Hotelier Fecamp France. Past chairman of regional British Sugarcraft Guild in Kent.
Student mentor for culinary competitions from regional level to international level along with judging culinary competitions. I was Team Captain for The British Culinary Federation Junior Team England. During my career I has won over 30 National and International Gold, Silver and Bronze medals for my work along with mentoring others to win awards. Having also judged and won various gardening competitions, winning best village garden twice in Buckinghamshire with an interest in Le Terroir along with abstract painting using various mediums from recycled products.