October 2017
Work of hired@UCB leads to rise in internships across the pond
Dedication on the part of UCB's employability service has led to impressive growth in the number of internships being offered to students by employers in the USA.
During the 2016-17 academic year, hired@UCB worked intensively with 12 companies across the pond to secure a selection of opportunities for undergraduate and postgraduate students.
A total of 42 students on UCB's hospitality, tourism and culinary courses passed an interview to be offered an internship with the employers, made up of beach resort properties, golf and country clubs, privately owned luxury B&Bs, corporate city centre hotels and activity resorts.
Through the J1 visa programme, the students were offered a mixture of internship job roles including front of house, food and beverage, culinary, recreation and front desk.
Employability manager Katie Bytheway said she recently visited 26 of the students to provide support and mentoring and further build relationships with the employers.
During the 10-day trip, she visited students at Seapines, Westin and Omni (Hilton Head Island, South Carolina), Greenwich Country Club, Stanwich Country Club and Rolling Hills Country Club (Greenwich) and Manor on Golden Pond (New Hampshire).
"The trip was very successful, with several of the employers increasing the number of opportunities they are offering us for this academic year," she said.
"They were very impressed with the investment UCB had made to make the trip, noting that no other university had made the same commitment.
"It was particularly lovely to hear about the opportunities the students had been given, spend time talking about their new career goals and receive a resounding 'yes' when I asked if they would be happy to talk to future students."
Following the trip, Hospitality and Tourism Management undergraduate Claudia Pereira Martinho said Katie's visit was really beneficial. "I felt like I wasn't alone in this experience and now I know for sure that I can always count on UCB if I ever have any issues," she said.
Fellow Hospitality and Tourism Management student Georgian Amititeloaie said: "Doing the work experience abroad exceeded my expectations and I'm so glad I had the opportunity to do it. I learned so much here and I keep learning."
Brian Shields from Manor on Golden Pond said Katie's visit was important and helpful for their intern. "It helped her to stay connected with the University and ask questions about her school work," he said. "It was equally important for Katie and I as she learned more about our property, which allows her to offer better advice to prospective students and for me to learn about the evolving university courses.'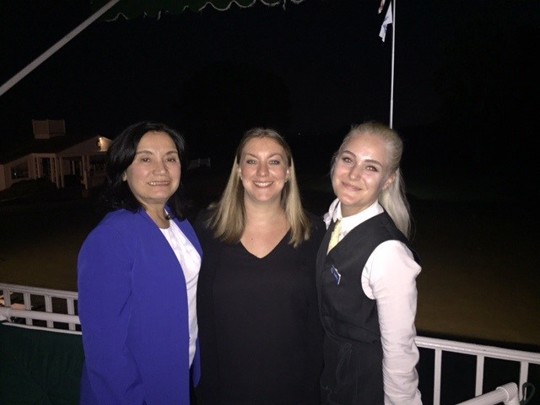 Mirna Tomic from Seapines Resort said they truly valued the long standing relationship with UCB and the personal visits from the University really made a huge difference in strengthening this.
"Katie's visit was beneficial in so many ways," she said. "It helped our management team to gain deeper understanding of the courses and benefitted the students, who were so excited and appreciative of the University showing genuine concern about their wellbeing and progress during their placement year.
"It was a great opportunity for us to discuss any necessary details about the students' performance and progress, as well as our future plans and recruitment efforts. During the visit, Katie had an opportunity to fully experience our resort and gain understanding of our operations, so she can speak about it to future candidates when helping them make their choices, which is very much appreciated by our team and the students themselves."