February 2019
Valentine's visit to Atrium for husband-and-wife chefs who first met at UCB more than 40 years ago
It's the love story between two budding chefs that began at University College Birmingham - and is still going strong more than four decades on.
Mark and Jenny Tibbins first met as 16-year-olds in 1977 when they both enrolled on a City and Guilds cookery course at UCB, then called the Birmingham College of Food and Domestic Arts.
And ahead of Valentine's Day, 42 years after their paths first crossed, the married couple from Redditch retraced their steps with a visit to where it all started at Summer Row.
"It's nostalgic," said Jenny. "But it does make you feel old!
"We actually met each other on day one. We were in class together and we walked over to Gosta Green for a wine tasting lesson. We've never been apart since, really!"
Husband Mark remembers that first meeting well. "On the first day, Jenny was really shy," he said. "I wanted to be a chef and I was very outgoing."
Taking all the same classes, the two quickly found themselves spending much of their time together at the College.
"We'd nip to the student bar and get a drink between us," said Mark. "We spent plenty of time in The Shakespeare.
"Back then, there was a paternoster lift here. So we used to get in together and ride the paternoster round the top!"
It wasn't long before the couple started going out in Birmingham, sharing their first date at former Bristol Street venue The Night Out (now the site of the O2 Academy) and frequenting a host of other venues around the city.
But it was at UCB that the two both began to pursue their shared love of cookery, a passion which would later lead to them running their own restaurant together in Redditch - right opposite the church where they got married in 1982.
As they shared a drink in the Atrium at Summer Row this week, the memories came flooding back of their student days cooking and serving together in the very same room all those years ago - including the memory of a flambé that went rather wrong for young chef Mark.
"Mark was serving a table and he had a trolley in the corner," explained Jenny. "All the boys used to try and make their flames the highest - unbeknownst to the teachers!
"He put the alcohol in and the flame was really large, so he had to move his head back. But there was a wall behind him, so his head ricocheted off the wall and went forward towards the flame. He scorched all the front of his hair - it was hilarious!"
Mark has never forgotten it either. "The customers were crying with laughter," he said. "I carried on though! I was trying to be professional!"
That wasn't the only mishap the young duo experienced during their college days - such as the time Jenny accidentally broke a bottle of Mateus Rosé she was trying to open for diners.
"I was so shy when I first started and I had a table of eight," she said. "I couldn't get the cork out. I was trying my hardest to get it off and I snapped the neck of the bottle!"
Despite the occasional culinary calamity, Mark and Jenny graduated together from UCB in 1979 and both embarked upon successful careers in the food industry.
Jenny went on to cook at The Café Royal in Edinburgh and at Selly Oak Hospital, while Mark worked in roles at Alveston Manor and other restaurants and hotels before the couple opened Spires, their own café and bistro restaurant which they ran together for more than six years.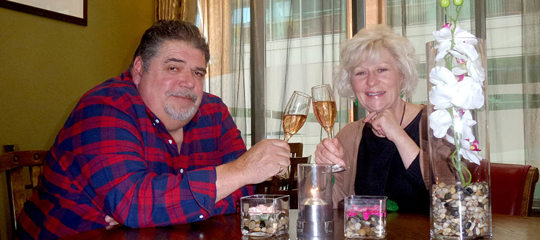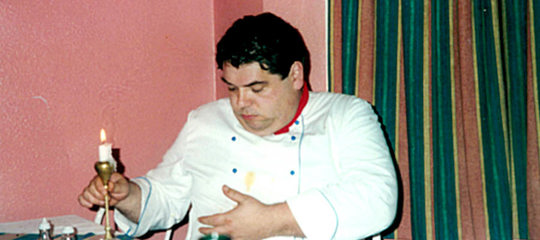 Looking back on their days at UCB, Mark said: "We had some good times here. The lecturers were very knowledgeable, and they made me and Jen very enthusiastic.
"We hadn't got a clue about wine, but our knowledge of that came from UCB. It inspired us. All the lecturers were very inspirational."
It proved to be the beginning of a culinary trend within the Tibbins family, with two of Mark and Jenny's four children – BA (Hons) Culinary Arts Management graduate Elliott and current FdA Professional Cookery student Millie – following in their footsteps by studying cooking at UCB.
Elliott spent 12 months working in New York and went on to become a development chef at Oliver James Foods in Redditch, where Millie is now on placement.
"We're really proud," said Jenny. "They have both done well, they just love it."
And more than 40 years after they were first brought together at UCB, both Mark and Jenny still hold the University in high regard.
"The kitchens here are amazing," said Mark. "You've got a competition kitchen, a demonstration kitchen – the opportunities are fantastic."
"We enjoyed it so much," added Jenny. "It's a nice place to be because if you're enthusiastic, they'll help you all you want."
Find out about our current range of courses at UCB's College of Food here.