March 2022
Ukraine: Vice-Chancellor and Principal statement
By Melanie Hall
Share post: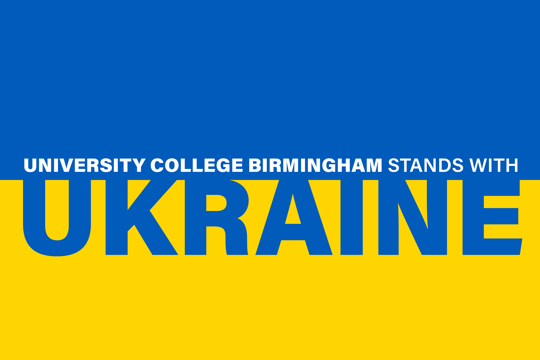 Message of support
Our thoughts are with members of our community who are affected by the current situation in Ukraine and surrounding countries. We have written directly to students who we believe are from Ukraine, offering our support. However, we wanted to extend the offer of support and solidarity to other members of the University College Birmingham community. We know that many students and staff would like to understand more about the situation, and so we have arranged for University College Birmingham students to be able to access an online talk about the situation from academic colleagues at the University of Warwick. Details on how to access the session are below.
Wellbeing support
If you're worried or concerned about the events unfolding in the region, we can offer you support in a number of ways. Students can access the wellbeing team in the Link, or by contacting wellbeing@ucb.ac.uk. You can also contact the Student Assistance Programme, which provides 24/7 access to trained counsellors on 0800 028 3766. To download the app, search Google Play or the App Store for My Healthy Advantage. You will need to use the ID code MHA145988.
Online talk: Ukraine and the Uses of History
Wednesday 2 March 2-3 pm
In his address to the nation before the attack on Ukraine in the early hours of 24th February, Vladimir Putin used history to frame his actions. Sending troops into Ukraine, he explained, was a defence of Russian people in the East of the country, who had been separated from their motherland by arbitrary political decisions, oppressed by an illegitimate regime, and who now demanded Russian protection. Needless to say, this vision of history does not accord with that put forward by the Ukrainian leadership, who themselves call on a long history of Ukrainian statehood to defend their right to resist Putin's forces. In this session, Christoph Mick and Claire Shaw will discuss the ways in which history has been used to frame both sides of the Ukrainian conflict, and how it might help us to understand what comes next.
To join the talk, which is on Microsoft Teams, please see your emails and Canvas for details.
Visa information 
The Home Office has confirmed that Ukrainians who are on work, study or visit visas in the UK will have their visas temporarily extended or be able to switch onto different visa routes. You can check the full details, or if you require any visa advice, please contact our International team.
Check out our latest news stories