February 2020
UCB's Zest Quest Asia champions shine spotlight on sustainable future for food industry
A triumphant team of student chefs from University College Birmingham set a shining example for sustainability in the food industry on their way to winning a national cooking contest.
John Almeida, Dorottya Kalo and Gonçalo Machado were crowned champions of the 2020 Zest Quest Asia competition following a final cook-off in London this month.
The third-year BA Culinary Arts Management students saw off finalists from five other institutions to win the seventh edition of the annual contest, which challenges student chefs in Britain to demonstrate their talent and flair for Asian cuisine.
Not only did they impress with their cooking skills, but the UCB trio also won a special 'Minimum Wastage' award after centring their entry on the key theme of sustainability.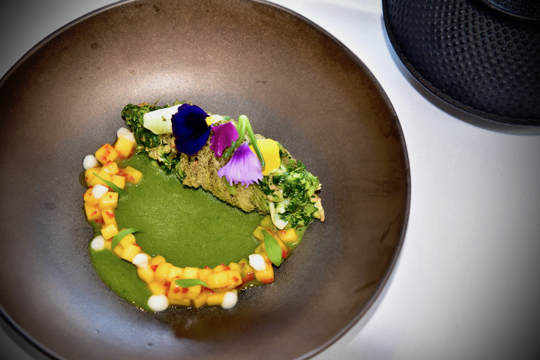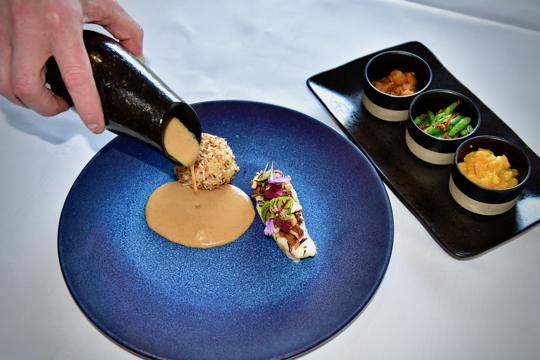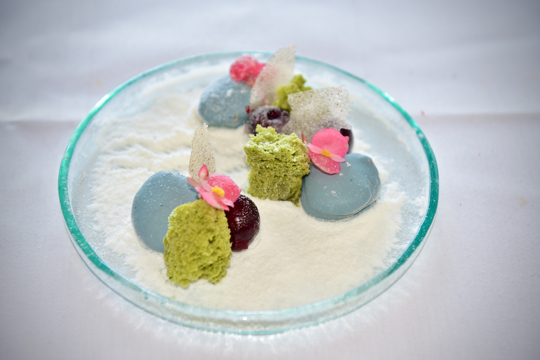 "Our industry wastes way too much", said John. "As chefs of the future who will be raising the next generation, we need to start making a difference now.
"If people think more about being sustainable and reducing wastage, it will have a big impact on our planet – that's what we should all be aiming for."
Supported by team mentor and UCB chef lecturer Lewis Walker, the students had to plan a three course meal based on Asian cuisine while also using British produce, as well as conducting research into the traditions behind their chosen Asian culinary influences.
Having first presented their proposal last year, the team were then selected to produce their dishes at the final two-hour cook-off, held in Mr Todiwala's Kitchen at the Hilton London Heathrow Airport Terminal 5 (Hilton T5) on 7 February.
They also had to take part in a Q&A demonstrating their culinary research for a panel of industry judges, including competition founder Cyrus Todiwala.
The trio demonstrated their dedication to sustainability throughout the process, using local and seasonal ingredients transported in reusable containers, maximising usage of their ingredients for multiple elements of each dish to minimise waste, as well as cleaning their workspace with reusable kitchen towels.
And Dorottya revealed how even the team's menu (see below) – inspired by the cuisines of Thailand, Sri Lanka and Japan – had connections with their sustainability theme.
"We chose countries that have been significantly affected by climate change and natural disasters," she explained. "That was our major topic that we chose to design our menu around."
The team's skill and commitment was rewarded as they were named Zest Quest Asia champions at a gala dinner later that day – the second time a team from University College Birmingham has won the competition, having previously scooped the title in 2017.
This year's winners are now set to travel to Bangkok in the spring where they will meet five of Thailand's leading chefs at Michelin-starred restaurants, as well as training in Thai cuisine at Dusit Thani's signature Thai restaurant and the recently launched Le Cordon Bleu Dusit Culinary School.
"Winning this is amazing," said Gonçalo. "We have had months of hard work and we're very proud as a team.
"I never had much experience in Asian cuisine so I've learned a lot, using new ingredients and equipment. It's also great to have a team like ours – we all know different things so we could share our knowledge with each other."
The trio, who also each bagged a set of Chefi Knife Rolls in recognition of their Minimum Wastage award, revealed how their training and experience at UCB had contributed to their performance at the contest.
"In one of our modules, our lecturers advised us about creating dishes using seasonal produce," said Dorottya. "We learned a lot about seasonality in our course, which is all about reducing your carbon footprint.
"We really have to thank Chef Walker who was with us throughout the whole journey, while we also got advice from our other chef lecturers and teachers."
John revealed how his experience of Asian cooking had been boosted through his Culinary Arts Management work placement at Birmingham restaurant The Wilderness, where he learned from head chef Stuart Deeley – winner of the BBC's MasterChef: The Professionals in 2019.
"I need to thank Stuart as he was a big influence for me in learning Asian cuisine throughout my placement," said John. "It helped seeing things during my placement that I could implement into this competition."
Hailing the trio's achievement, UCB team mentor Lewis Walker said: "The theme of sustainability and climate change has framed the students' approach and is a huge consideration for all of us.
"Across UCB, we focus on minimising single use plastic, maximising utilisation of food and promoting sustainable, environmentally aware education. It's hugely important across our industries and is at the forefront for future generations.
"We're all incredibly proud of the team and very excited about winning this competition," he added. "Dorottya, John and Gonçalo fully deserve this win and their prizes for their hard work, dedication, commitment and professionalism. I'm personally massively proud of all of them."
University College Birmingham is a highly-respected provider of specialist training in the culinary arts, with a wide variety of courses delivered by our renowned College of Food and Hospitality Management.
Find out more about our range of courses here, while you can also follow the latest updates from the College of Food and Hospitality Management on Twitter.
Zest Quest Asia 2020 – Team UCB's winning menu:
Starter – Thai Langoustine 'Mi Krop' Croquette, Langoustine and Spinach Bisque, Mango and Coconut Salsa
Main – Sri Lankan Monkfish 'Malu Mirisata' Curry, Cashew Sauce, Spiced Infused 'Kiribath' Rice Green Bean Salad, 'Wattaka Kalu Pol' Pumpkin Curry, Tomato Sambal
Dessert – Japanese Cherry Blossom Garden Dark Chocolate and Yuzu 'Namelaka', Matcha Kasutera Sponge, Spiced Cherries, Sesame Oil, Blossom Garnish.