February 2018
UCB's first hospitality students tuck into feast of memories to kick-start golden anniversary
A group of University College Birmingham's very first hospitality students were invited back for a feast of memories to kick-start celebrations for its golden anniversary year. 
The alumni, who were just 16 when they started UCB in the year it was opened by HRH The Duke of Edinburgh, had the chance to visit their old training kitchens and meet today's College of Food lecturers at the Summer Row campus in Birmingham city centre. 
Some of the group, made up of Duncan Cameron, Richard Pumphrey, Steve Thomas, Neil Spiers and Chris Davis - who travelled from South Africa for the visit - were then cooked and served a three-course meal by today's students at UCB's award-winning Atrium restaurant. 
"Things have changed so much in the last 50 years, the facilities are unrecognisable," said Duncan, who went on to teach at UCB after earning his Potential Managers National Diploma before leaving to take up a Principal lectureship in 1985. "What was very surreal, but lovely, was that I also actually taught two of the lecturers who showed us round. 
"The overwhelming impression I am left with is one I experienced as a student, that of total commitment to the students and the hospitality industry. An institution to be truly proud of." 
The visit was the golden opportunity for the longstanding friends - part of a 16-strong UCB reunion group who went on to work at hotels in the UK and abroad and ran their own pubs and restaurants - to see how things had evolved over the last half century.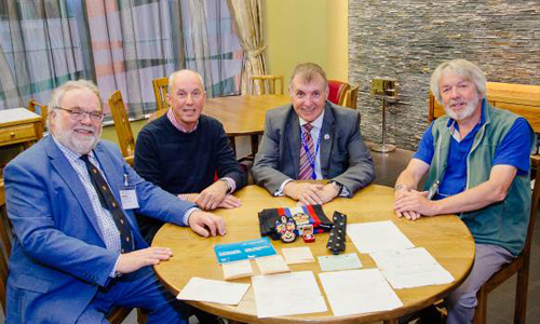 Steeped in history
Then called Birmingham College of Food and Domestic Arts, UCB grew from a centre for small, domestic cookery classes to a globally-connected, three-campus provider of vocational and academic college courses, degrees and apprenticeships in the fields of tourism, creative services, business, sport, health and social care and education, as well as in food and hospitality. 
Garnering a reputation as a globally-renowned training facility, UCB diversified its courses in the 1980s to become Birmingham College of Food, Tourism and Creative Studies. 
Moving away from Birmingham City Council control in 1993, the college received the Queen's Anniversary Award to recognise its links with industry in 1998. 
In 2002, it transferred to the higher education sector, providing both higher and further education courses with a strong vocational focus and, in 2006, became the first HE institution to be awarded the government's Beacon status, recognising providers that deliver outstanding teaching and learning.
Granted its own degree awarding powers in 2007, the institution became University College Birmingham, with many degrees accredited by the University of Birmingham, and 'University' title was granted in 2012. Today, it has more than 7,500 students. 
Growth plans include building on UCB's new partnership with the University of Birmingham to widen participation and create new pathways together, and open its new £42m Moss House higher education campus in the Jewellery Quarter in 2019.                         
Loyalty and passion
Vice-Chancellor and Principal Professor Ray Linforth said: "With Brexit, the Higher Education and Research Act, the Teaching Excellence Framework and the introduction of T Level vocational awards, higher and further education continues to undergo radical change. 
"We are tremendously proud of our unique and specialist position and it was especially lovely to have some of the class of 1968 visit as we start our 50th anniversary year and hear them reminisce about UCB and the staff. The loyalty and passion they all share for the hospitality industry and UCB was so evident and enormously appreciated." 
UCB's student successes include Michelin-starred chef Brad Carter, Miss Macaroon founder Rosie Ginday, the world's first male flying butler Eren Wirizlay, board member of the National Bank of the Maldives Abdulla Yasir and Paralympian swimmer Chloe Davies. 
Awarded silver in the 2017 Teaching Excellence Framework, UCB will be holding special events and activities to mark the 50th milestone, to be announced over the coming months. 
For further information, please contact Melanie Hall on 0121 604 1000 (ex. 2260) or email m.hall@ucb.ac.uk. You can also find UCB on Facebook, Twitter and Instagram.