August 2022
Star six scoop top grades as students celebrate brilliant BTEC results
By Darren Campbell
Share post:
Budding business talents at University College Birmingham have been celebrating bagging top grades in their BTEC qualifications this summer.
Six students on our Level 3 National Extended Diploma business courses scooped the best possible grades, achieving a triple distinction star, with many more achieving at least one distinction star grade.
Among those achieving D*D*D* were Business and Finance Level 3 students Leilani-Gabrielle Courtney, Alissa de Souza and Ahmed Noor Mohammed, as well as Business Level 3 trio Seba Nasser, Samara Watson-Hayles and Tashifa Akhtar.
"They have worked incredibly hard, including during the pandemic, and they should be very proud of their achievements"
Leilani (pictured above), who is also president of University College Birmingham's Guild of Students, expressed her delight at receiving her grades and now has ambitions to progress onto university study in the area of international business development.
"The grades that I got are really good, I'm very happy with them," she said. "I couldn't get any higher!
"Towards the end I spoke to my lecturer who supported me to help get the rest of my work done. I got the grades, so it paid off.
"I enjoyed a lot of the units which were quite specific to what I want to do in the future, like marketing, international business and management," she added. "It all helps because it's part of the job I'm in now.
"The Guild is a business. It has been challenging to maintain alongside my college work, but I've definitely learned many skills alongside my course, especially aspects like project management."
Also obtaining impressive grades on their BTEC courses were Myra Afsar, Ermal Kallabaku and Ismail Shabir (Business and Finance Level 3) as well as Ria Khatun (Business Level 3), all of whom achieved D*D*D.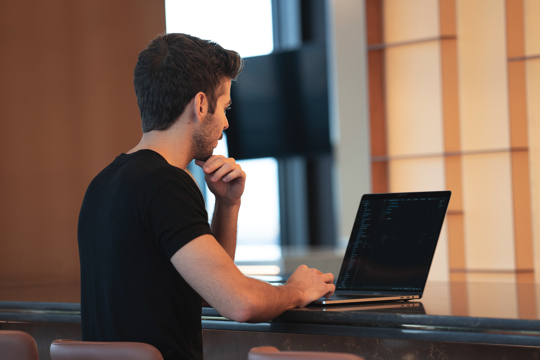 Every student on our new Computing and ICT Level 3 course achieved a pass this summer
Liz Stratton, Senior FE Lecturer in Business, Marketing and Finance, said: "We are exceptionally proud of our entire BTEC cohort. They faced significant challenges adapting to face-to-face teaching again post-Covid, focusing hard on revising for their exams in January and submitting high-quality coursework.
"The learners achieving D* grades showed exceptional time management, focus and determination in order to achieve their goals, and we look forward to hearing about their success at university in the future."
Hundreds of students received their results last week on completion of their further education courses at University College Birmingham, with over half achieving at least one distinction or A grade.
More than a third of BTEC students scooped at least one distinction grade or higher, while students on courses counting towards the UCAS Tariff achieved an average of 65 Tariff points – up from 49 points in last year's results.
There were particularly impressive results on our new Esports and Computing BTEC qualifications – both launched in 2020 – with all Level 3 students across both programmes successfully passing their course.
Alice Wilby, Pro-Vice-Chancellor (Access, Participation and Student Experience), said: "It's great to see such positive results from our college students.
"They have worked incredibly hard, including during the pandemic, and they should be very proud of their achievements. We all wish them well with their next steps and we're looking forward to welcoming many of them to university study with us next year."
University College Birmingham delivers a wide range of vocational college courses, including BTECs, T-levels and Access to Higher Education Diplomas. As a college and university under one roof, we also provide a direct pathway for progress onto our undergraduate courses, and even postgraduate study thereafter.
Discover our full range of college courses here.
Check out our latest news stories