March 2017
Specialist Hair and Media Make-up newsletter: UCB Creative
A message from the Vice Chancellor & Principal
I am delighted to be able to contribute to this first edition of the Specialist Hair and Media Make-up (SHMM) newsletter.
Over the past few years, our SHMM course has grown to become one of the largest and most respected in the country. Each year we welcome students from around the country and they choose to study with us in Birmingham because of our outstanding staff, who have a wealth of industry specific skills and experience. They are drawn to our fantastic facilities and equipment, as well as our links with leading figures and employers in the industry. Our talented graduates are exceptionally well equipped to pursue rewarding careers in this fast paced and vibrant sector.
Of course, students who are so skilled and creative will always stand out in the crowd. I'm no longer surprised when I walk around the University and come across students in, let's say, 'interesting' make-up and costume, or carrying prosthetic limbs covered in blood. Our SHMM students have certainly created a real buzz around the place.
The aim of this newsletter is to keep everyone up to speed with what our students are doing and to showcase some of the excellent work they are producing. It will feature up-coming events, and many good news stories. It will also show prospective students what a truly exciting experience they can look forward to.
I am hoping our students will decide to get actively involved in producing future editions, and I'm looking forward to hearing all the news over the coming months and years.
UCB opens its doors to experts from the industry
In February UCB welcomed some of the biggest names from the hair and media make-up industry to share their experiences as part of Employability Day.
The event included talks and workshops from major names, including Neill Gorton, an internationally acclaimed prosthetics designer and founder of MillenniumFX and Neill's Materials; Emmy-nominated hair and make-up designer Helen Smith; award-winning international fashion, portrait and beauty makeup artist Karla Powell; and Andrew Whiteoak, former head of wigs at The REP Theatre, Birmingham, and currently freelance wig master.
UCB Alumni also came to share their stories since graduating and demonstrated some of the new techniques they have been experimenting with.
Crown brushes and PS Composites were in attendance selling their latest products and equipment, and there were opportunities for students to demonstrate their skills and be chosen to take part in work placements with some of the VIP  visitors.

Here we share some of the best tips we picked up during UCB's Employability Day 
Lisa Halstead, Make-up Artist
Lisa's highly practical advice focused on where to look for work, and how to hone your portfolio. To find work, she says students should regularly: 
Check out Mandy.com 
Search Facebook for London hair and make-up artists
Look up 'Gems Agency' on Facebook
Phone studios
Search local newspapers
Keep in contact with lecturers and friends from university
Look people up on IMDb
Get contact details from The Knowledge
Get contact details from The Oracle
Join the Broadcasting, Entertainment, Cinematograph and Theatre Union (BECTU)
Check out crewavailablity.com
Lisa's advice on building a good portfolio is simple – if an image is not good enough, don't include it. She suggests students should work on their skills to ensure they produce the best images possible. Practise repeating a look, and don't be afraid to try something new with prosthetics, such as a set of time-lapse images which depict a wound healing. Think about adding to your skill base by exploring corrective make-up. 
Other top tips include: 
Always ask before you make mistakes
Keep a note pad and pen on you
Keep a log of contact numbers as you go, you will need them again
If you don't enjoy what you're doing, try something else
Stay in touch and help each other
Insure your kit
Apply for public liability insuranceStudents on placements should dress appropriately, use common sense and adhere to set etiquette.
Chloe Mccall, Bridal Make-up Artist
Being a part of someone's wedding day is a great privilege, but it also involves great responsibility. For Chloe that means remaining calm on the day in order to ease a bride's nerves and displaying great social skills to ensure everyone feels comfortable.
Good time keeping, planning and the ability to work well under pressure are essential, plus confidence with different skin types/tones and attention to detail.
Chloe believes established artists with several years' experience charge around £150-£250 for bridal make-up (this includes a trial). They charge anything from £45-£70 per person  for other members of the bridal party. However, don't expect to earn this much when you're just starting out.
Her top tip is:
Chloe recommends building a network of friends and suppliers within the industry, as sometimes it's not what you know, but who you know.
Neill Gorton, Special Effects Artist
Neill employs people with a variety of different skills relating to prosthetics, including sculptors, mould makers, casting technicians, painters, postiche, and hair punchers, as well as on-set application artists. He is also involved in prop making and animatronics.
Neill looks for people who are talented, but he's also impressed by good interpersonal skills, hard work and dedication. While the industry may appear to be glamorous from the outside, hours can be long and unsociable so students must be prepared to graft.
Neill revealed he has employed people in the past after only seeing two examples of their work – so he's an advocate of quality over quantity. When you get advice on how to improve your portfolio, go away and do it and come back.
Set the foundation for your career now by getting involved in student films and keep in touch with friends who want to work in the industry.
Neill's top tip:
Neill's top tip is to keep practising. If you are talented and dedicated enough, eventually you will get noticed and someone will give you your first break.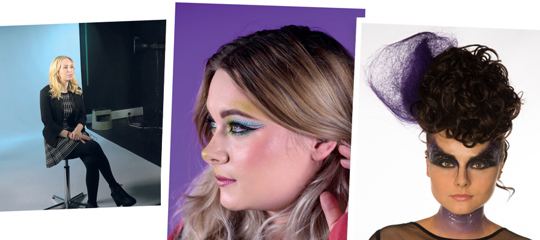 Andrew Whiteoak, Wig-maker, Hair and Make-up Artist
Andrew works in a range of different settings, so his top tip is to hone your skills in a few specialist areas. It always pays to offer something extra, and for Andrew that means achieving a hair qualification so you have more than one string to your bow. 
Being talented and hardworking is essential, but Andrew also looks for people who are friendly, polite and approachable as when you are working long hours with colleagues, it is important that you can get along. 
Another top tip is to tailor your portfolio for the specific job you're applying for – and only include a few excellent quality images. 
When it comes to networking, Andrew recommends students attend events, introduce themselves and talk to people – try not to be pushy or too forceful. Make a good impression by being engaged and asking advice – that way you'll be remembered as a friendly person. 
When the time comes to apply for jobs, Andrew says students should present a neat CV which is no longer than one page. If you don't have much experience, use it as a chance to demonstrate what you've learned at university and to sell your strengths. 
Start building your portfolio now says second year student Justine Burgess
You need passion and dedication to succeed in the hair and make-up industry – and the best place to start demonstrating those qualities is at university.
Our Level 5 student Justine Burgess has proven that it pays to excel not only in lectures, but also outside your studies.
Justine has her sights set on a career in editorial fashion, and is focussing her efforts on improving her CV and portfolio.
Following advice from her Freelance Practitioner Lecturer, Steve Underhill, she contacted the BA (Hons)  Photography course at a Birmingham university, offering her services as a hair and makeup artist to photography students.
She had an overwhelming response from students wanting to collaborate on portfolio work. Justine advises that students who want to improve their employment opportunities should take advantage of the facilities that are available to them now, while they are free to use. She said: "Students should begin building their kits immediately so that they are prepared when opportunities arise."
Justine also knows the importance of networking. She attended a talk given by make-up artist Alyn Waterman at UCB's Employability Day. Following a recommendation from one of her lecturers, Karen Dubberley, Justine was given the exclusive opportunity to assist Alyn during a bridal make-up shoot. She helped to set-up the shoot and was on hand to re-apply make-up throughout the day.
She said: "I learned a lot about etiquette while on set, picked up industry tips and tricks that will be very useful in the future, and I received excellent advice on suitable products for a variety of looks. I have really enjoyed my work experience placements, but this is just a starting point. I would urge students to use their initiative and to build their portfolio externally throughout the academic year, in order to practice techniques and to become more employable in the future."
Justine strongly recommends all students attend next year's Employability Day, as it is an invaluable opportunity to learn more about the industry, and make contacts which could potentially lead to work.