September 2019
Praise for student chefs as UCB's WelcomeFest kicks off new academic year in style
Award-winning chef Aktar Islam has praised University College Birmingham's budding food stars after opening UCB's very own street food festival during a week of special events to launch the new academic year.
A host of UCB alumni were among the vendors showcasing their produce outside McIntyre House at Friday's WelcomeFest street food festival, the finale of a series of activities organised by staff to welcome new and returning students to the University last week.
The festival included an Indian vada pav cooking demonstration from Birmingham chef Aktar, who has worked with many UCB students at his city restaurants and recently appointed graduate Eren Wirizlay as Assistant General Manager at Legna near Summer Row.
"We've always worked very closely with UCB," said Aktar. "The students have been really good, they're really passionate and we've loved to see how they've developed."
He also spoke about the value of events like UCB's WelcomeFest helping to introduce budding chefs to the local street food scene.
"Street food has become part of Birmingham culture so for UCB to celebrate that is very fitting of the time and the city," he said. "It allows passionate food producers to be able to sell their wares without the constraints of expensive restaurant setups."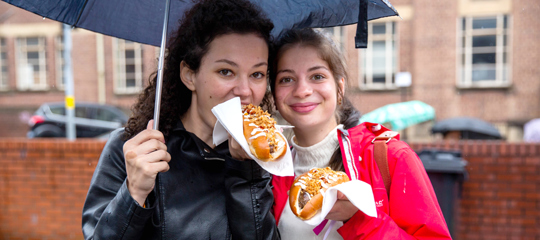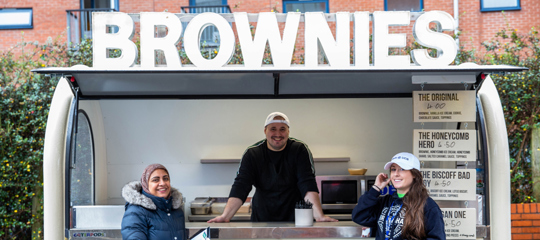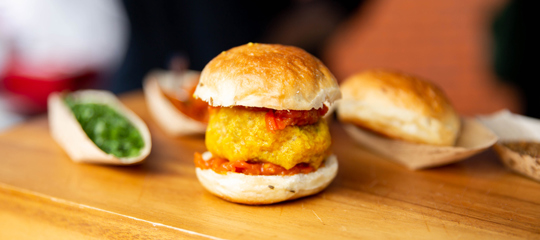 Many ex-UCB students have been inspired to get involved in street food, including The Brownie Boss owner and MA Culinary Arts Management graduate Ollie Ashworth, who was among the vendors serving the crowd at WelcomeFest.
"During my course we did a street food event and that was my introduction into street food," said Ollie. "I've since managed to turn that into running my own street food business, so that was brilliant!"
Former Hospitality Management apprentice Jess Forward, who also attended the festival with Baked In Brick, said events such as WelcomeFest serve to demonstrate the range of career options available to food and hospitality students.
"It's good to show what everybody can do," said Jess. "You don't just have to be a manager of a restaurant, you can be a manager of your own business doing street food."
Students and staff at the event also enjoyed live entertainment and music from a steel band, as well as taking part in a raffle which raised almost £400 for Macmillan Cancer Support.
The street food festival marked the end of a week of events organised by UCB staff to help kick off the new 2019/20 academic year in style.
Other events included an action-packed UCB Sports Day at The Maltings on Wednesday, where staff and students faced the challenge of an inflatable assault course and a sweeper arm.
The event also provided the opportunity to get involved in the University's wider active community, with a range of sporting activities including an American football session, a rodeo ride and a space hopper grand national.
The following day saw McIntyre House host the University's annual Guild of Students Freshers' Fayre and Community Day, giving students the chance to discover more about the student union, UCB and Birmingham as a whole.
Sports teams and societies, local businesses, community organisations and charities were all in attendance, while there were also other activities and a range of prizes and freebies up for grabs.
A huge thank you to our hard-working staff for organising these events, and to everyone who supported and attended – we wish you all the very best for the new academic year!