December 2021
Olympic runner among University's sports stars boosted by scholarship scheme
By Darren Campbell
Share post:
Read time: approx 12 mins
From an Olympic track athlete to a budding basketball star and an ambitious football player-coach, there is no doubt University College Birmingham's newest sports scholars are a crop well worth watching out for.
Four students on the University's undergraduate and postgraduate courses have been awarded a Sporting Excellence Scholarship this term, offering a wealth of benefits including funding, access to state-of-the-art sports facilities on campus and a personalised support programme.
Up to six scholarships are awarded each year to student sports stars who are deemed 'elite' or 'talented' performers in their field – and the latest recipients certainly possess plenty of potential.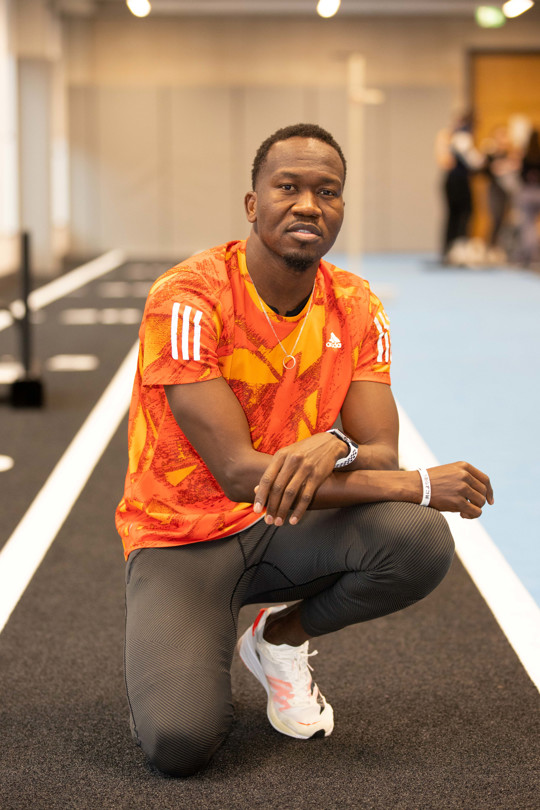 Sadam Koumi
Seeking a second Olympics
Among the quartet is Sadam Koumi, a 400m runner who has already faced the very best in the world on the track at the Tokyo Olympics this summer.
The second year Sports Management FdA student, who competes for Sudan, narrowly missed out on a semi-final place at the Games in August after finishing fifth in a heat that included the event's gold medal winner, Steven Gardiner.
Sadam's season-best time of 46.26 seconds was all the more impressive given the Olympics represented his first official competition in two years, following a knee operation and the disruption of the coronavirus pandemic.
Having tested himself at the very top level of his sport, the 27-year-old Birchfield Harriers runner is now hoping to go even further at the next Olympic Games in Paris in 2024.
"Going to Tokyo was a dream come true, but it was also a beginning for me," said Sadam. "Going to Paris, my aim would be higher.
"I'm already an Olympian. I don't want to get ahead of myself, but I would be going to Paris aiming to make the final, and then anything is possible. That's my aim."
Sadam, who works part-time at a Birmingham primary school alongside his athletics and studies, has been awarded 'elite performer' status on the University's Sporting Excellence Scholarship scheme.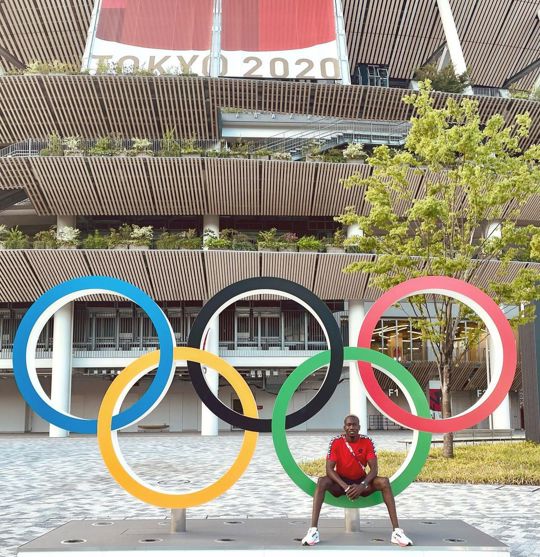 Sadam at the Olympic Stadium in Tokyo before his appearance in the 400m earlier this year
The scholarship offers up to £3,000 of funding towards competitions, training and equipment over three years, as well as a tailored programme offering everything from nutrition and sports psychology to strength and conditioning or lifestyle support.
"The support I will get from the University going towards my training camp and my travel expenses – something I have been struggling with – is very good to have and will help me a lot personally," he said.
"What the University can offer to support me in my career is something every athlete would love to have. It's a massive boost to me personally, financially and in terms of facilities, plus my lecturers are very understanding of what I'm doing in my career."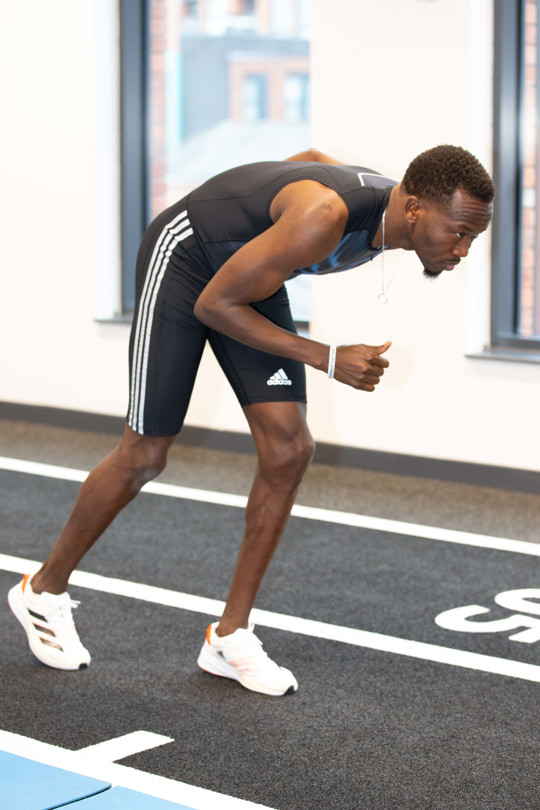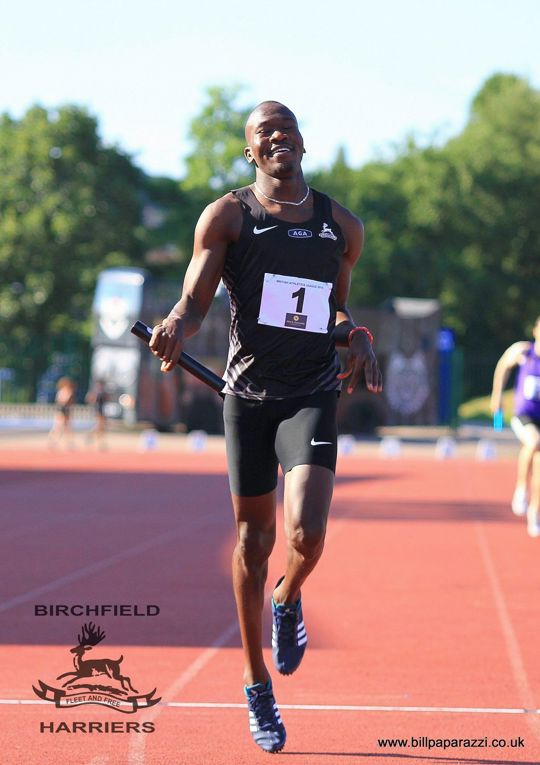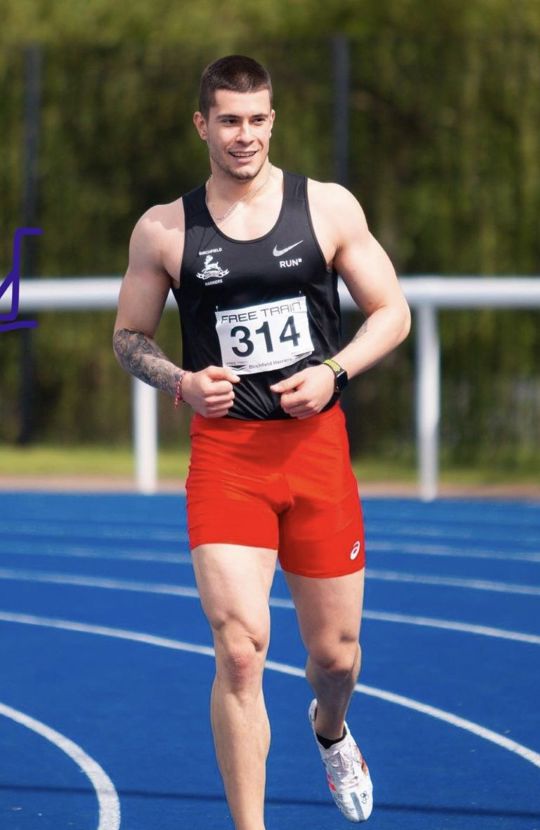 Kristiyan Patarov
Hurdler with high hopes
Sadam is not the only track star at University College Birmingham looking ahead to Paris. Kristiyan Patarov also has his sights set on an Olympic outing in the French capital.
The hurdles specialist has impressed at a string of major events in recent years, reaching the semi-finals of the 110m hurdles at the European U20 Championships two years ago, as well as recording numerous top-three finishes at national championships in his native Bulgaria, including winning the 60m hurdles at the Bulgarian U20 Indoor Championships in 2019.
Despite the Covid-19 pandemic limiting his competitive opportunities since then, this year has seen the 21-year-old come first in the 110m hurdles at several events around the Midlands, and 2022 offers the potential for bigger and better accomplishments, including another European Championships bid in the summer.
Multi-talented Kristiyan also works as a chef and is studying for a Business Enterprise BA (Hons) degree with aspirations to one day run his own restaurant.
But with just two-and-a-half years until the next Olympic opportunity, he is firmly focused on putting in the work and preparation on the track – something he believes the University's 'elite performer' scholarship will help him to achieve.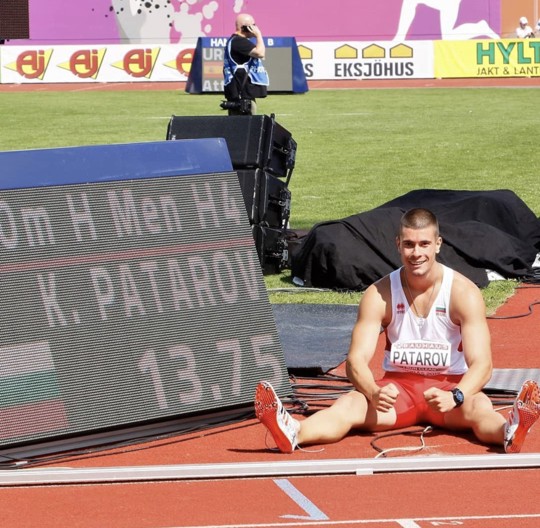 Kristiyan recorded a personal best time of 13.75 seconds in the 110m hurdles at the 2019 European U20 Championships in Sweden
"The funding will help towards all the training camps I need," said Kristiyan, who plans to attend training camps in Bulgaria and Tenerife. "Most of the time, the only free training camps are from the national team."
Balancing training and work with his studies can be tough, but Kristiyan also commended his tutors at University College Birmingham for their support.
"We can always talk with someone," he said. "All the tutors are so polite and the feedback we get from them is just amazing."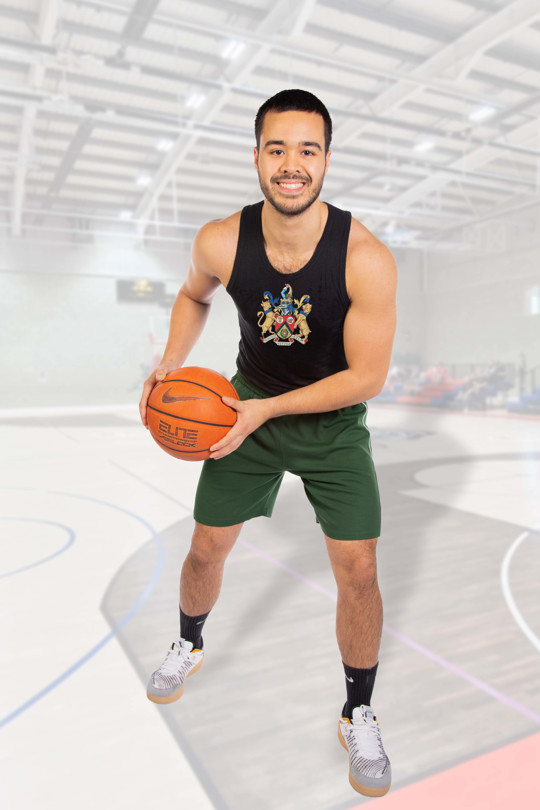 Matt Parker
Pursuing a Philippines dream
Matt Parker is another Olympic hopeful at University College Birmingham, though his ambitions are not on the track – they're on the basketball court.
The 6ft 1in point guard currently plays for National Basketball League (NBL) Division 2 side City of Birmingham Rockets, having previously plied his trade in the NBL's top flight with Nottingham Hoods, where he claimed the league's third-highest three-point percentage in the 2019/20 season by shooting 56%.
Second year Strength, Conditioning and Sports Nutrition FdSc student Matt grew up in the UK but his family has Filipino heritage – and it is under the flag of the Philippines that he aspires to compete at the Olympic Games in Paris in 2024.
Having travelled to the Philippines for workouts with professional teams and putting himself on the radar of coaches and agents, the 25-year-old hopes to make the national team by 2023.
"I have a foot in the door," said Matt. "I just have to look after myself and keep doing what I'm doing, stay healthy and injury-free, keep eating and sleeping right."
Having been encouraged to study at University College Birmingham by one of his coaches, Matt now balances his foundation degree studies with spending at least 20 hours per week playing basketball and a further 12 hours per week weight training, while he has also spent time during the Covid-19 pandemic serving as a relief worker for Mencap.
Qualifying for 'talented performer' status on the University's Sporting Excellence Scholarship scheme – which includes up to £1,500 of funding over three years – Matt explained how the support will help him maintain his many commitments.
"The massage support goes a long way, plus the lifestyle support, the strength and conditioning, and the use of the facilities," he said. "Financial support is always good too.
"It's also about having that relationship with the staff who know I'm on a scholarship and pushing for the Olympics in two-and-a-half years, so they understand where I'm coming from and they have been great."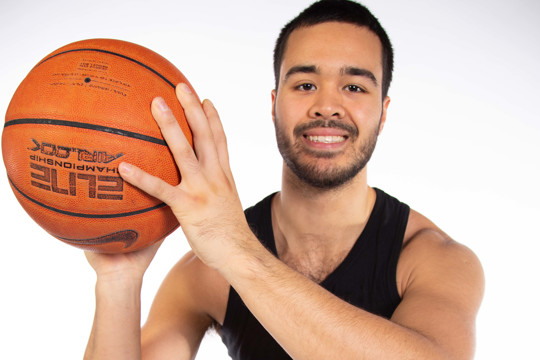 Matt also revealed how studying his Strength, Conditioning and Sports Nutrition course has further boosted his basketball career.
"When I used to do weight training with my coach, I would just have to listen and do what I was instructed," he said. "But now, I can piece together why my coach is getting me to do things, and I can have a conversation with them about it.
"It's all interesting, and the teaching makes it more accessible. The lecturers are patient, I'm not shy to go and ask them a question and they'll always give me a good answer so I can understand it."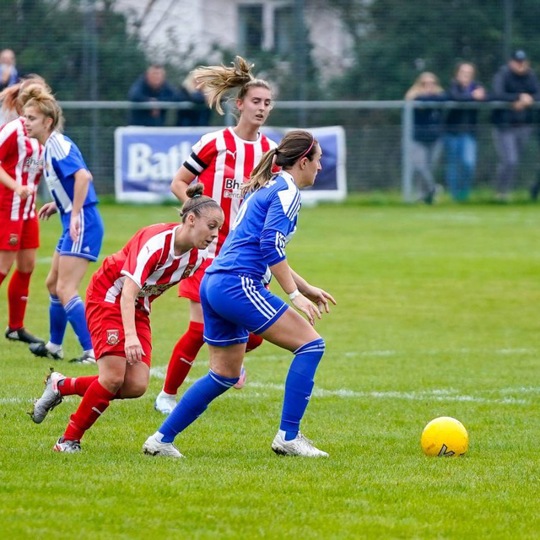 Jess Fassnidge
Targeting the top in women's football
For footballer Jess Fassnidge, her career ambitions aren't only in playing her sport, but in coaching it too.
Having grown up playing football in the UK before earning a soccer scholarship in the United States, Jess helped Eastern Florida State College's women's team reach the NJCAA Division 1 Championship final in 2012 before going on to captain her side the next year, earning NJCAA All-Tournament honours in both years.
Moving to Flagler College in 2014, the central midfielder received further individual awards including being named Most Valuable Player in 2015, before staying with the team for another year beyond completing her undergraduate degree to work as assistant coach.
Returning to the UK, Jess spent a season at Redditch United in the West Midlands Regional Women's Football League before joining her hometown club, Worcester City Women, where she is now both a player and first team assistant coach.
Studying for her Strength, Conditioning and Performance MSc at University College Birmingham, Jess is eager to bounce back after having her football career hampered in recent times by a combination of Covid-19 and injury – and she is hopeful the University's 'talented performer' scholarship will be of great help along the way.
"It is brilliant to see University College Birmingham offer these awards to students to enhance their development in sport," she said. "It makes a huge difference knowing you have this support to be able to continue growing and improving in a sport you love as a result of this scholarship.
"Right now, my main focus is to return to being fully fit and back playing in the Worcester City squad. In the near future, I would want to graduate with my master's and use this experience and knowledge at Worcester City to help the players enhance their game as much as possible.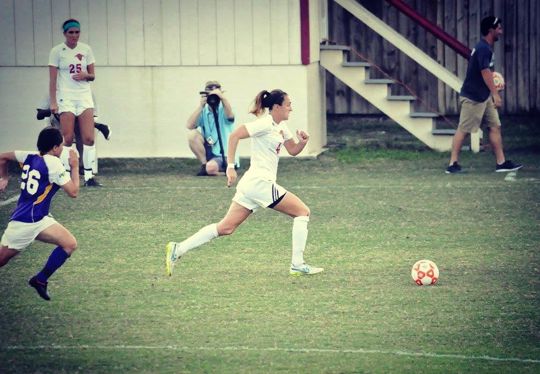 "Taking the strength and conditioning course at University College Birmingham has already provided me with so much valuable information to start doing this."
Her aspirations don't end there either, with dreams of one day becoming a head coach at the top level of her sport in the FA Women's Super League (WSL).
"If I could look into the future, I would love to be a head coach at a WSL club," she said. "It has always been an ambition of mine to coach at the very top of the game and work with staff and a club that shares the same vision."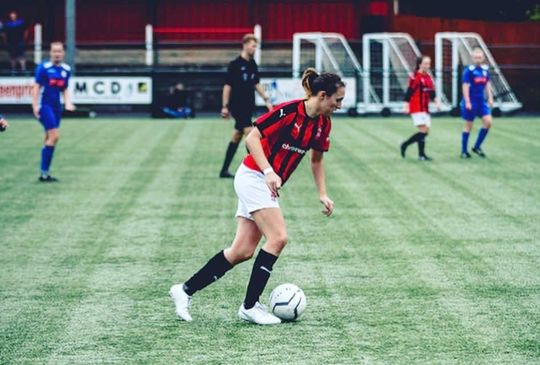 About our Sporting Excellence Scholarship
University College Birmingham provides a wealth of support for young athletes and budding professionals studying on our sports courses to help them succeed in their competitive ambitions.
Our Sporting Excellence Scholarship provides up to £3,000 of funding towards competitions, training and equipment over three years, as well as free gym membership and an individually tailored support programme.
Our sports scholars also have access to our state-of-the-art sports facilities at University College Birmingham, including a cutting-edge gym, purpose-built sports injury and massage clinics and our Human Performance Centre, as well as use of the Avery Fields sports complex which the University shares with Bournville RFC.
Two levels of support are available – an 'elite performer' package for students competing at national, junior international or international level, and a 'talented performer' package for students competing at county level or above with the potential to progress.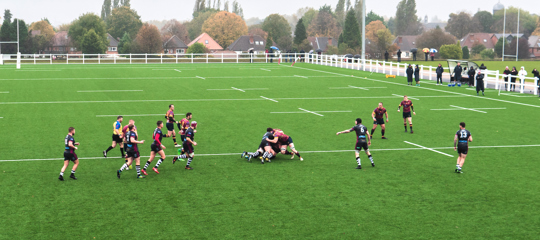 Students have access to our Human Performance Centre and Laboratory as well as the Avery Fields sports complex
Elaine Limond, Deputy Dean for Strategy, Recruitment and Innovation at the University's School of Health, Sport and Food, said: "We're always keen to support our elite and aspiring athletes at University College Birmingham.
"With a scholarship programme that meets the bespoke needs of each individual, our staff and athletes work together, often using the University's specialist sports facilities, to ensure they have access to all the support they require.
"As with their predecessors on the programme, we can't wait to see what these current students go on to do in their sporting and industry careers."
Full details about the scholarship scheme are available here.
Discover our full range of college, undergraduate and postgraduate courses within our Department of Sport and Nutrition.
Check out our latest news stories