September 2019
New UCB trading suite to help boost diversity in finance and accounting industry
University College Birmingham could provide a major impact in addressing the need for greater diversity in the finance and accounting industry after opening a brand new trading suite on campus.
The new UCB Financial Trading Suite at McIntyre House is one of the largest among all UK universities and will provide practical training opportunities for students on courses at UCB's Business School and other finance-related modules across the University, as well as a professional development facility for industry partners.
Featuring 21 workstations, two large wall screens and a scrolling ticker providing real-time global market information, it is also the first university trading suite in the country to be powered by Infront Professional Terminal, offering unique benefits for staff and students in using and sharing data.
The investment comes amid calls from key industry figures for improved diversity in the finance and accounting sectors. Speaking earlier this summer, the Institute of Chartered Accountants in England and Wales (ICAEW) president Fiona Wilkinson highlighted the importance of inclusivity in the profession and encouraged more diversity in boardrooms "to bring insight from a range of social and educational backgrounds".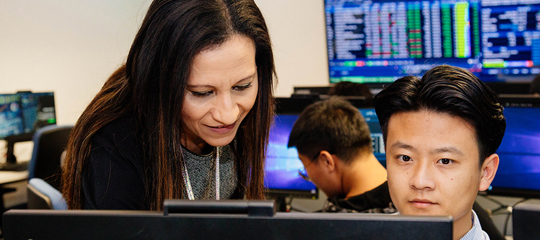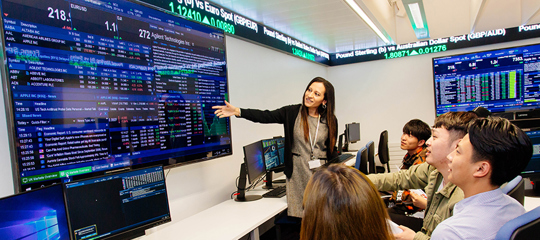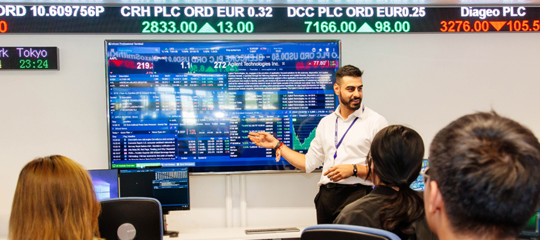 Dilshad Sheikh, Dean of The Business School at UCB, believes the new facilities will support students from different backgrounds by providing more practical opportunities to develop and demonstrate their abilities for working in the industry.
"As institutions are becoming more and more diverse, it's important to embrace and celebrate the skills that the students are bringing," said Dilshad. "The fact that we are integrating practical skills allows students to hone in on what they're good at.
"What we're doing here at UCB is focusing on inclusive curriculum, making it more practical, more relevant to industry and professional practice."
The UCB Financial Trading Suite will be a key component of the new Finance and Accounting MSc (starting January 2020) and Finance and Accounting BSc (starting September 2020), with practical work to be integrated into course assignments.
"This training is built into the assessment to ensure that every student develops the practical skills they need for this sector," said Dilshad.
"More and more banks and financial investment companies are using the Infront platform, so when students are going into industry, this is exactly the terminal they will likely be faced with."
A formal launch event for the new suite is expected to be held in October with guests from the finance and business industry.
Find out more about our range of courses at The Business School here.