July 2022
Ex-student Kyle's football career hits new heights with Huddersfield Town
By Darren Campbell
Share post:
Things are really kicking off for a former University College Birmingham student-turned-professional footballer who has been snapped up by a Championship club.
Kyle Hudlin has enjoyed a truly remarkable rise up the ranks of English football since his days as a Sport and Fitness Studies FdA student at the University two years ago.
Having been playing for Midland Football League side Boldmere Sports and Social Falcons when he started his course, the 6ft 9in striker had moved up to fifth-tier Solihull Moors by his second year of study, even appearing in a televised FA Cup First Round win over Football League Two side Scunthorpe United.
"Coming to University College Birmingham matured me as a person"
By the end of the 2020/21 football season, he had netted 10 goals in 37 appearances, won Moors' Young Player of the Year award and was making headlines in national news outlets as 'Britain's tallest outfield player'.
And after another impressive season in which he narrowly missed out on helping Solihull to promotion to the Football League earlier this summer, the 22-year-old has now sealed a move to Huddersfield Town in the Championship – the second tier of English professional football, and just one step away from the world-famous Premier League.
It is the realisation of a long-held ambition for Kyle, who was dreaming of a pro career while studying for his Level 3 Diploma in Sport at University College Birmingham in 2018, before moving onto study for a foundation degree.

Speaking after making his debut for Solihull Moors in November 2020, Kyle revealed how his studies at the University had provided a helping hand for his footballing career.
"Studying subjects like psychology and coaching definitely helped me prepare more for games," he said. "My lecturer Nathan Price taught me techniques which helped me relax – we went over pre-match habits like getting into routines and self-talk.
"Coming to University College Birmingham matured me as a person," he added. "I definitely believe that no matter how academic you are, the University will bring the best out of you and you'll be able to achieve whatever you want."
Signing with Huddersfield on a two-year contract, Kyle will initially link up with the Terriers' B Team, with pathways to progress into the first team and potential appearances in the Championship.
Photo credit: Tom King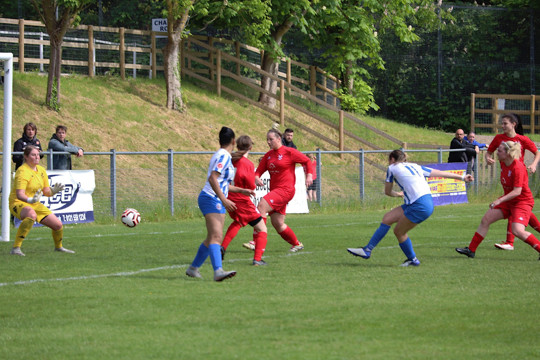 More flourishing footballers
Kyle is not the only student from University College Birmingham to have enjoyed success on the football pitch recently.
Postgraduate student and Sporting Excellence scholar Jessica Fassnidge has been making her mark in the women's game for Worcester City Women FC, where she is both a player and a coach.
The Strength, Conditioning and Performance MSc student narrowly missed out on lifting silverware with her side last season, scoring in Worcester's 3-1 defeat in the final of the Worcestershire FA Sunday Women's Cup in May.
Meanwhile two more young footballers from University College Birmingham had the chance to appear on the international stage earlier this year in the CONCACAF Women's U20 Championship.
Sports Therapy FdSc student Hadassah St Juste and former Sport and Physical Activity Level 3 student Eve Richards represented St Kitts and Nevis at the biennial tournament, where they helped their country to reach the final 16.
Are you interested in a career in sport? Discover our full range of college, undergraduate and postgraduate courses within our Department of Sport and Nutrition.
Students who demonstrate outstanding sporting performance and potential can apply for our Sporting Excellence Scholarship scheme, which provides a range of benefits including funding and use of our cutting-edge sports facilities. Find out more here.
Did you know University College Birmingham will be the home of Team Scotland at this summer's Commonwealth Games in the city? Read more here.
Check out our latest news stories