February 2020
England World Cup star shares unique career insight as top sports industry experts speak at UCB's SPARC conference
Top professionals from the world of business, tourism and aviation will be sharing their expertise with University College Birmingham students at a conference on campus this month.
Backed by the Institute of Travel and Tourism (ITT), the 2020 Future You Business Conference and Employability Fair will host a series of guest speakers and employers at McIntyre House on Tuesday 25 February.
The annual conference, now in its fifth year, has been organised through a close collaboration between the University's Business School and the hired@UCB employability, careers and placements service.
This year's event will feature a keynote speech from Antonio Paradiso, Managing Director (UK and Ireland) of MSC Cruises, one of the world's biggest cruise firms.
Starting at 9.30am with an opening address from the ITT's Claire Steiner and Danny Wain, the conference will include further talks from Lee Bushell (CEO of Bushell Investment Group), Joe Schuppler (Founder and Creator of Independent Birmingham) and aviation YouTuber Josh Cahill.
Students will then have the opportunity to take part in a Q&A session with a range of industry figures including Jodie Pilgrim (Party Hard Travel), Olly Nicholls (Attraction World), Cassie Goodwin (Holiday Extras) and Angela Day (Affordable Car Hire).
This will be followed by an employability fair on the ground floor of McIntyre House from midday, featuring a wide variety of employers such as Ernst & Young, Swissport, Holidays Please, Royal Airforce, Royal Aeronautical Society, HM Courts and Tribunal Service, West Midlands Police and many others.
The Future You Business Conference and Employability Fair is open to both higher and further education students on courses at UCB's Business School, though students from the University's other schools are also welcome to attend.
Business School Assistant Dean Michelle Callanan said: "We are very excited to be hosting our fifth annual Future You event, which showcases a range of industry experts offering excellent advice to our students for 'getting ahead' in their careers.
"With a variety of speakers and an employability fair, we expect the day to be very busy and dynamic. The industry presence will cover the wide range of our outstanding programmes in the Business School.
"Given the increasingly competitive graduate market, our students can start to make smarter career plans based on the excellent guidance offered by these professionals. We expect to have a full house on the day and everyone is welcome!"
For more information and to register for the Future You Business Conference and Employability Fair, visit the hired@UCB events page on the Portal.
University College Birmingham is recognised as an ITT Centre of Excellence and offers a variety of specialist courses for the aviation, travel and tourism industries.
As part of a £130 million programme of investment in cutting-edge new teaching facilities and environments, the University has opened up a state-of-the-art Aviation and Tourism Suite, featuring a mock plane cabin, check-in areas and Galileo GDS system.
UCB is also a key player in supporting the West Midlands' rapidly developing tourism industry, with the West Midlands Growth Company (WMGC) having outlined major plans last year to expand tourism in the region over the next decade in order to produce an additional £1 billion in revenue and create 19,000 new jobs.
Are you interested in a career in aviation, travel and tourism? Discover our range of courses at UCB's Business School here, and follow the latest updates from the School on Twitter.
You can also find out more about the variety of services and events offered by our hired@UCB careers, employability and placements team.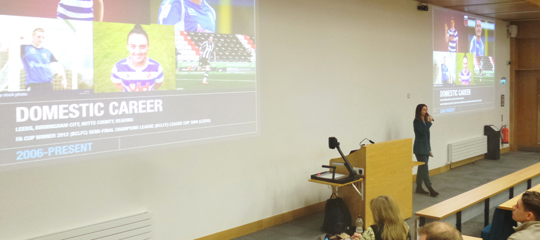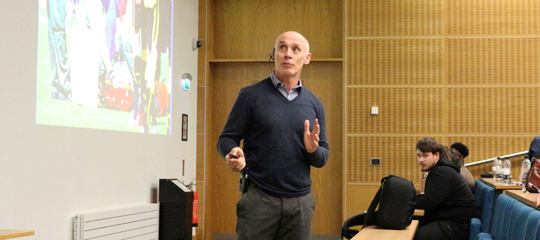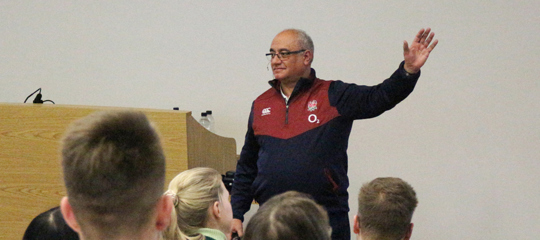 Open to students at UCB and industry professionals alike, the annual conference links nationally and internationally-leading research to applied practice, providing the opportunity to hear leading figures in sports performance and rehabilitation share their knowledge and experience.
Among this year's speakers were former NFL coach Phoebe Schecter sharing her experience with the Buffalo Bills and different approaches to coaching, as well as ex-Manchester United physio Dave Fevre discussing rehabilitation approaches in elite sport.
Arsenal FC Head of Performance Nutrition Dr Richard Allison, who delivered a talk on nutritional support in elite football, echoed UCB's emphasis on the importance of applying theory to practical application in real-life settings.
"When you're in a lecture getting this information, it's good to have an understanding of how things do or don't work in the real world," he said. "You need the underpinning knowledge before you can apply it, but I wanted to offer some practical advice and give a real-world perspective on what we do.
"Go out there and get busy, do an internship, go and volunteer at a local club – get hands on experience wherever you can."
Addressing the conference on the subject of physical exercise in medicine and health, Exercise Works founder Professor Ann Gates also highlighted the value of networking in the industry.
"Make every contact count, and influence at scale where it matters on a daily basis," she said. "Never lose that opportunity to promote physical activity and how important it is for health."
Further speakers included John Widdowson, Rugby Football Union Match Official Development Officer, and Professor Graham Smith, chair of the Society of Sports Therapists (SST).
Among the students attending SPARC were nine special award winners who received VIP tickets to the conference. Each of the students had been nominated by University staff for a 'Champion Award' recognising particular achievements throughout the year, with the winners bagging the opportunity to meet with the speakers at the event.
The conference also offered students and delegates a first look inside the sports facilities at UCB's brand new Moss House campus, with the Human Performance Centre hosting a practical demonstration by Matrix Fitness UK master trainer Katy Sullivan.
Other facilities available to sports students at the University's new £44 million site include a 35-metre indoor running track for assessing performance and a cutting-edge gym offering the latest equipment.
Find out more about our new sports facilities here, and discover our full range of courses at UCB's School of Sport and Creative Services here.