October 2019
Duo win special awards at celebration event for UCB apprentices
Apprentices from University College Birmingham gathered together on campus this week for UCB's first-ever Apprenticeship Celebration Event.
Monday's celebration at McIntyre House welcomed more than 60 apprentices on programmes from across UCB to collect their certificates, while two special awards were also handed out.
The John Slaughter Memorial Awards – named in honour of a former UCB catering student who died in a road accident in 1991 – were given to apprentices who had overcome challenges and displayed excellent performance throughout their studies.
Level 2 Health and Social Care apprentice Mandy-Ann Martin received the Overcoming Obstacles Award, having dealt with a number of personal issues and challenging circumstances on the way to completing her course.
Gail Tipper, Head of Apprenticeships at UCB, said: "Mandy has always remained committed to her apprenticeship and totally dedicated to her studies.
"Her persistence paid off and she successfully completed her apprenticeship. She is a credit to herself and her organisation."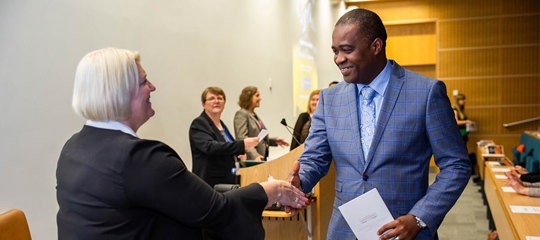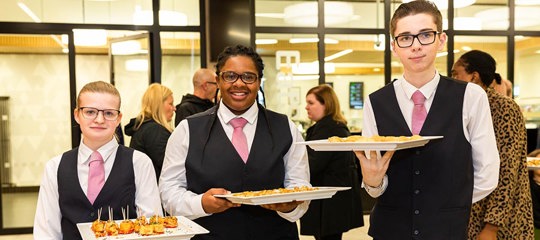 Also receiving special recognition at the celebration event was Level 3 Business Administration apprentice Salsabil Abdulkadir, who collected the Outstanding Apprentice Award.
Salsabil, who also completed her Level 2 at UCB, secured a full-time position within the NHS and was recently promoted upon the completion of her Level 3.
"Salsabil has shown outstanding commitment and enthusiasm throughout her apprenticeship journey," said Gail.
"She had completed all work to a very high standard and taken full responsibility for her own personal development. The feedback from her supervisors has been excellent throughout."
Attendees gathered for refreshments and photo opportunities in McIntyre House before the main ceremony, which included a speech from UCB Vice Chancellor and Principal Michael Harkin.
Family and friends were also at the event to see the apprentices being congratulated as well as a number of employers, including Midland Heart, NEC Group, Birmingham and Solihull Community Healthcare Trust and the University of Birmingham, with whom UCB works in partnership.
UCB offers a wide variety of apprenticeships ranging from Level 2 to full undergraduate degree apprenticeships – find out more here.