September 2022
Blog | More than just gaming: How to launch a career in esports
By Darren Campbell
Share post:
If you think esports is just about gaming, think again. It's now one of the fastest growing industries in the world – and one that offers a wide range of career options.
Having first emerged in the 1990s, esports – which sees video gamers engage in competitions that mimic professional sporting events – has become a global phenomenon over the last decade, with more than 800 million enthusiasts worldwide.
As the popularity of esports has grown, so has a diverse and lucrative industry around it. According to Newzoo, the global market was valued at around $655m in 2018, and this is expected to reach $1.79bn by the end of this year.
Esports is now big business. And big business means jobs.
It's not just those aspiring to play esports professionally who can make a viable career out of this field. Aside from roles closely associated with playing – such as coaches, referees or analysts – there is a huge range of opportunities out there, from managing esports events or working in sales, marketing and social media to broadcast production and journalism, human resources, finance, legal roles and more.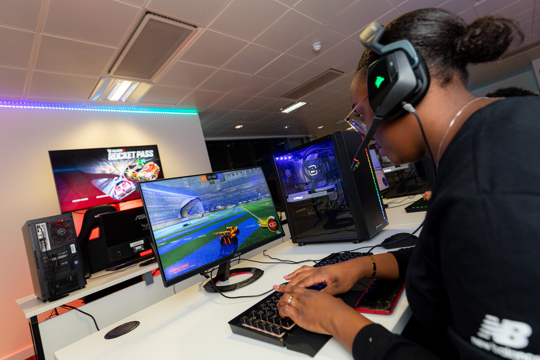 Esports has become a huge global industry worth over $1 billion
There is significant earning potential in these roles too. According to the British Esports Association, many positions such as events managers, community managers and tournament admins/referees can earn salaries of £30,000 and above within the esports sector.
For anyone seeking to forge a career in esports, there are various steps you can take to help you get a foot in the door.
University College Birmingham offers a dedicated college course, our Esports Level 3 BTEC, which provides a great starting point to help you specialise in this sector.
Endorsed by the British Esports Association for learners wanting to work in the industry, our course covers a wide variety of topics, from esports branding, social media, events and enterprise to streaming and video production, games design and coaching.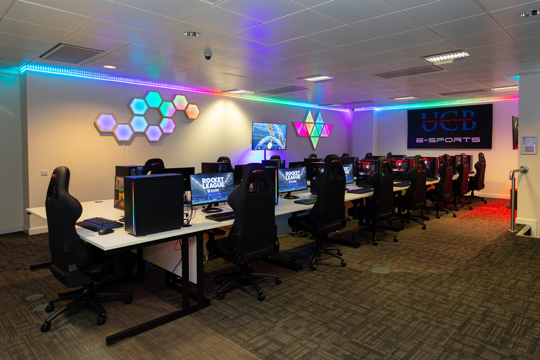 University College Birmingham has a dedicated esports suite on campus
With esports having strong connections to computing, technology, engineering and other core subjects, you will also gain a wealth of transferable skills suitable for progressing into careers and further study in many other fields – all while gaining a nationally-recognised Level 3 BTEC qualification.
We also have a dedicated esports suite on campus, equipped with top-spec gaming grade computers and the latest technology to support students on our BTEC course.
As the esports job market becomes more competitive, it's also important to gain work experience, whether it's with teams, organisations, tournament providers, broadcasters or other companies.
Our course features a work placement as part of your studies, giving you the opportunity to spend 10 days with one of our industry partners. Other opportunities are available in the industry with companies often on the lookout for volunteers, from events staff and tournament admins to writers and casters.
Find out more about our esports course and how to apply here.