January 2021
Aesthetics degree students to receive "life-saving" skin cancer surveillance training 
By Melanie Hall
Share post:
University College Birmingham has teamed up with a national charity to train undergraduates in how to spot the signs and symptoms of one of the UK's most common and fastest rising cancers. 
The partnership with Skcin will give students on the University's Aesthetic Practitioner BA (Hons) and foundation degree the opportunity to gain vital skills in detecting early symptoms of skin cancer and signpost accordingly.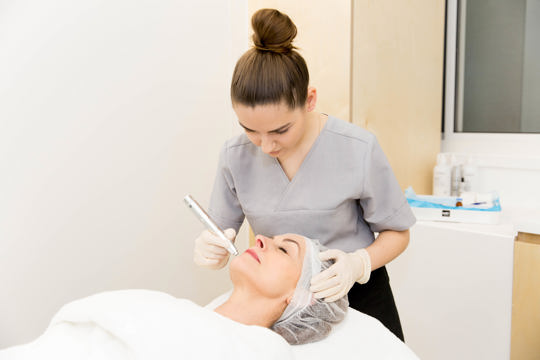 There are over 210,000 cases of skin cancer reported each year in the UK, with seven people a day dying of the disease. 
Delivering non-invasive treatments for the face and body, the University's trainee aesthetics practitioners are in prime position to detect early signs and symptoms up close. 
Students will be able to access the MASCED online accreditation course for free through the University's Kick-Start scheme, which provides students with targeted financial support and additional opportunities to enhance their studies. 
Level 4 manager Portia Foster, who helped develop and teaches on the Aesthetic Practitioner degree, said: "We strive hard to give our students invaluable continued professional development (CPD), and this vital surveillance training will arm them with potentially life-saving skills. 
"The University is extremely proud to support Skcin and their work to help tackle this public health concern through a positive collaboration."
Alarmingly, skin cancer cases have increased by 45% in the last decade. 
However, 90% of skin cancers are preventable, according to Skcin, as they are largely due to overexposure to ultraviolet (UV) radiation from the sun. 
"By undertaking the training, students can become powerful advocates in supporting our fight against the worrying skin cancer statistics that are rising every year."
The route to solving this is educational training for the health and beauty sectors and aesthetics degree students at University College Birmingham have the chance to take both the MASCED and MASCED Pro surveillance training.  
Marie Tudor, CEO of Skcin, said: "We are absolutely delighted to be working with University College Birmingham and its students to help make a difference to so many. 
"By undertaking the training, students can become powerful advocates in supporting our fight against the worrying skin cancer statistics that are rising every year."
She said, each month, Skcin received stories from individuals whose skin cancer was detected early due to its training. 
"Early detection is vital for a good prognosis, but in the case of melanoma, the most deadly form of skin cancer, this early detection is life-saving.
"As frontline professionals, students training to go into the aesthetics sector are perfectly placed to undertake skin cancer surveillance as part of their engagement with clients. They are such an influential group to help convey the vital message of sun safety." 

Skcin was set up in recognition of Karen Clifford, who passed away on New Year's Eve 2005 after a courageous battle against skin cancer. When the disease was diagnosed, Karen's family knew little to nothing about skin cancer. 
Realising that skin cancer rates were soaring, ignorance booming and that most cases were preventable, Karen's family, with help from medical professionals, set out to fill the mammoth void that existed in skin cancer awareness, prevention and early detection in the UK. 
Since it was launched in 2018, over 7,500 people have received the MASCED training, professionally accredited by the Hair and Beauty Industry Authority (Habia). 
It is also endorsed by the British Association of Beauty Therapists and Cosmetologists (BABTAC), National Hair and Beauty Federation (NHBF) and the British Beauty Council.  
You can find out more at Skcin's MASCED website or for more information on the accreditation, please contact Marie at Marie.Tudor@skcin.org.
Find out more about enrolling on the University's Aesthetic Practitioner degree, which gives students the opportunity to train on real-life paying clients in our cutting-edge, on-campus Aspire Aesthetics clinic. Find out about other courses within the Department of Creative Services here.
Check out our latest news stories